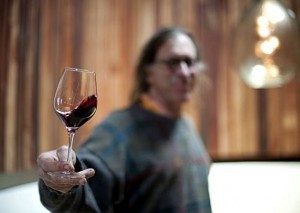 I've just had the pleasure of spending the last couple of weeks with Randall Grahm. Nobody knew. In fact, Randall didn't even know. Hell, if I'm being honest, I didn't know until I had drained the last bottle. Though this could quite possibly be the post that finally lands me a one-way cab ride to Greystone Park Psychiatric Hospital1, the two weeks were spent not physically with him but mentally…or maybe spiritually. I haven't got it all figured out yet, so humor me. I know this will go somewhere. It always does.
Because I often write about wine, I feel compelled to jot down tasting notes, but it is the single most disjointing thing you can do while tasting a wine. It's no doubt the reason that my tasting notes are as brief as my discourses are long. How many times can I tell you about the aromas of pineapple or the lingering hints of wet stone? How many clever ways can I find to describe the body of a wine, and how many of them wind up sounding overtly sexual?2 It's simply not intrinsic. I don't want to think about wine, I want to experience it. Tasting notes fuck with my mojo. Interestingly enough, however, the opposite isn't at all an issue—drinking wine while writing doesn't hinder the experience at all. But how else am I to tell my readers what I thought of the wine? How do I get you to run out and buy it (without bothering to heed your local traffic laws) or to avoid it at all costs? And why the hell should you listen to me, anyway? It's far easier for me to express how a wine tastes on Chateau Petrogasm than it is here.
So when I found myself with a case of Bonny Doon wines staring me down in my dimly lit kitchen, I kinda freaked out. On the one hand, I was thrilled…blessed that I had all this glorious wine to taste through. On the other hand, I was nervous. I didn't want to do them a disservice by whittling their existence down to a bunch of irrelevant tasting notes. And on the other hand (I am an incarnation of Vishnu and have more than two hands3) I was confused because I was only expecting 6 bottles for review. But I'm not one to question such matters. They are better left in the realm of other unanswerable questions, like does anybody really know what time it is4? I took it as an invitation to spend time with Randall Grahm, and I RSVPed immediately with my waiter's corkscrew. OK, OK, I lie. They were all screw-capped bottles, but Hunter Thompson taught me that I should never let the truth get in the way of a good story.
I've written about Randall many times before. Reviewed his wines many times before. Lauded him many times before. So I didn't wanna short change him. He's a winemaker that cuts open a vein with each wine he bottles, saying, "Here, this is who I am. Love it or leave it. I don't give a shit." And in a saturated market, where eye-catching labels, point-bragging shelf talkers and critic-pleasing whores mud wrestle for consumer dollars, that's a brave stance. Bravery isn't always repaid with victory, mind you, but in Randall's case I believe it is—because his wines are great. Wait. Rewind. They are honest and they are great. How do you take tasting notes about liquid in a bottle that is more or less the equivalent of a man willing to pose naked for a sketching class? I'll tell you how. You don't. You open each bottle, pour yourself a glass or two (or three), have something to eat, and talk to yourself like no one's watching. You don't write, you listen.
I managed, at some point during those 2 weeks, to type out a Facebook "review" of the 2013 Clos de Gilroy that ran about as long as a Twitter post: "Can't find a single flaw with 2013 Gilroy. It is mother earth in a 750mL vessel." At another point, I managed a second Facebook review of the 2012 Contra where I was temporarily blessed with a little more eloquence: "2012 Contra is everything it should be and nothing it shouldn't be. It is the Pathos, not the Ethos. It is a middle finger waved flagrantly at enological conformity, and a peace sign held lovingly at gonzo gastronomy. It is a marriage of fruit and earth that lives as every other marriage does…in a perpetual state of contradiction." And at yet another point, a friend wanting to thank me for a favor asked what wine they could buy me, and I responded with a link to that amazing 2012 Contra (I keep hoping one day it will be 100% carignan.5  We can all dream, after all).
And there were multiple moments when I tried to take tasting notes. I swear. I really did. But they were more like stammering. Cigare Blanc 2011 – peach/apricot nose. Lithe and chewy at same time. Lime on finish. Syrah6 – just sticking nose in glass was an experience. Like drinking a seared steak au poivre. 2013 Albariño – super citrus. With fish. Best not very cold. Cigare '10 – Needed no time to open up, but the 09 did. Many more berries. Yet nose defies the fruit-forward taste, with lots of earthy notes and licorice. See where I'm going here people? I'm going nowhere and I'm going everywhere, all at once. Enological ADD because at the end of the day I just wanted to let the wine speak to me and you can't do that when you're talking.7
Randall's wines will vary from vintage to vintage. He makes no promises about consistency, though he will do his best to maintain some sort of contract with the consumer about the overall personality of the wine. These aren't his words, they are mine, so I may be wrong. But I never am. Consistency is a magic trick when you deal with that which is organic—that which is nature. If a consumer wants and expects the same exact taste out of every bottle he/she opens, wizardry is required in order to meet that expectation because the world we live in is fickle and doesn't give a crap about expectations. Those who live on the world rather than in it will never understand that, and those are the ones who demand that unrealistic consistency that winemakers often find themselves struggling to achieve in the name of the ailing dollar bill. We must be careful what curtains we pull back.8
Bonny Doon wines continue to speak to me because they have no curtain and they have no wizard. They only have a guy who decided to make wine on his terms instead of the market's terms. They, like we, vary from year to year. And if what I was taught to believe is true, that no man ever steps in the same river twice9, then that should suffice for honest wine.
_______________________________________________________________
1Originally opened on August 17, 1876, the hospital was known as the New Jersey State Lunatic Asylum at Morristown.
2Exactly 100% of my tasting notes about a wine's body sound overtly sexual.
3Vishnu (Viṣṇu) is the Supreme God of Vaishnavism, one of the three main sects of Hinduism. In Hindu sacred texts, Vishnu is usually described as having the divine pale blue color of water-filled clouds and as having four arms.
4Does Anybody Really Know What Time It Is is a song recorded in 1969 by the band The Chicago Transit Authority (later shortened to "Chicago") on their eponymous debut album The Chicago Transit Authority.
5Carignan grapes are most often used in blends rather than being made in a varietal form because of their inherent rusticity. They have a penchant for being high in acidity, tannins and astringency, making it difficult to produce an "elegant" wine solely with them. I personally adore the idea of a difficult grape and would love to see a winemaker tackle a wine that is 100% carignan, but as they say, hope in one hand and shit in the other and see which one fills up faster.
6More specifically, I was taking notes on the 2012 Syrah "Le Pousseur".
7Technically, I mean writing. But writing is a silent form of talking.
8Reference: The Wizard of Oz, c. 1939, MGM, starring Judy Garland.
9Quote by Greek philosopher Heraclitus, "No man steps in the same river twice, for it's not the same river and he's not the same man."