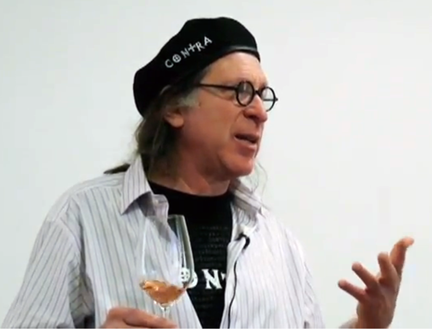 Charles Bukowski once wrote, "If you're going to try, go all the way. Otherwise, don't even start." And as much as I'd like to believe that I unwaveringly steer my life according to that compass, the truth is certainly somewhere in the middle, and I'm OK with that most of the time because going all the way can run one of two ways: you are either lauded as the harbinger of change or you go down in a hail of bullets. Going all the way in the wine industry is a cloak of many colors for the same exact reason…it's not viewed as sane, and sanity is the thin crack between genius and lunacy. Randall Grahm is one of those iconoclasts I return to often because he walks alongside that crack with every wine he bottles.
Grahm's Bonny Doon is his "go all the way" opus. For starters, his was among the first California vineyards to embrace Rhone varietals. While a soda pop nation was busy swilling chards, cabs and merlots, Randall was busy plotting a way to turn them on to shit they weren't even sure they could pronounce, much less drink. While most west-coast vineyards slumbered under a blanket of insecticides, pesticides, fungicides and herbicides, Randall was cradling and nurturing the concept of biodynamic viticulture. And while the debate of cork vs. screwcap was just beginning to be waged, Randall was already flipping cork the bird (something I shall one day pick his brain about). Going all the way appears to be mantra for Randall—status quo, so to speak.
Bonny Doon's 2010 Vin Gris de Cigare is mostly a blend of grenache and mourvèdre, typical of a vin gris because it is made from red-skinned grapes that bleed their color out during the crush. But what makes this wine intriguing…what makes it Randallesque…is that it is blended with white wine (roussanne and grenache blanc), something which you don't exactly hear being done in the Rhone. The result? One of the single most character-driven rosés I have ever had. My notes, verbatim, were: Very pale salmon color. Nose only softly reminiscent of the typical "Jolly Rancher" aromas. More elegant floral notes. Serious dry acidity that laughs off any thoughts of being associated with sweet California blush wines. Needs to warm up a bit to reveal itself.
What I adored was that inasmuch as it was a great wine to pair with food, it could certainly command its own attention—could easily relegate everything else to background noise, something seldom accomplished by a rosé made stateside. And at $13 it's a fucking bargain. Thinking back to the Bukowski quote, I don't know that he and Randall would have ever seen eye to eye on anything other than the necessity to go all the way when you endeavor to try something. Bukowski, for the most part, viewed life from the bottom of a bottle of wine—Randall, on the other hand, systematically views life from the wine itself.