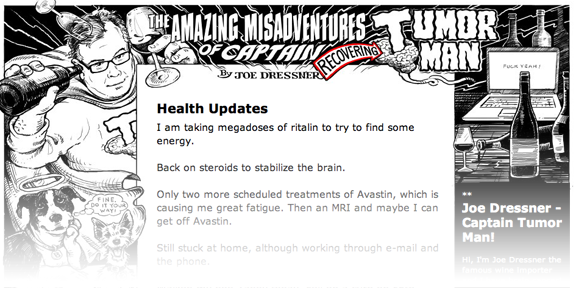 I've mentioned more than once that there are a handful of importers I trust implicitly…importers whose wines I would buy based on their names alone gracing the back of a wine bottle. Names like Lynch, Skurnik, Rosenthal and Dressner hold that kind of weight in my world, though today I'm now living in that world without the last man, Joe Dressner.
The footprint Joe leaves behind in the importing world is gargantuan, though I sincerely doubt he'd ever want to be eulogized like this. When the words "natural wine" were completely falling on deaf ears, Joe was the one with the bullhorn on the mountaintop, demanding they become part of the marketplace.  And to that end, I certainly don't mean a small, cult-like hipster marketplace…I mean every corner of it. Joe's unwavering determination to have the words "natural" echoing in every wine drinker's ear deserves a "Balls to the Wall" medal. I find myself short of medals these days, so instead he gets my words…words of praise for his passion, and words of regret for his passing.
God knows the wine industry has a devil's share of importers that spend their careers placating the status quo with homogenized wines, so Joe was nothing if not polarizing in his attempts to change the way we drank. He was opinionated. He was raw. He was unrelenting. He was Gonzo. The wines that most people dismissed and mocked as being too weird or esoteric were the very wines he fought for.  And damned if he didn't succeed. Thanks to him, we are doing more than just discussing these wines nowadays—we're drinking them.
I guess it's little surprise that when he found himself battling brain cancer, he met it head-on, with the same ferocity he had been using to fight for his wines. The result was a blog called The Amazing Misadventures of Captain Tumor Man where Joe's posts might include a wine/radiation pairing: finding the perfect wine for various intense levels of radiation treatment. And in the midst of what must have been near-debilitating radiation treatments, he busied himself flying in some of the most interesting vignerons from Europe and bussing them around the States to tastings in an effort to bring them to market. Joe didn't give a shit that he had cancer because the cancer didn't ever have him. His singular focus was always on getting these amazing wines in our hands, and for that I give eternal thanks. The man was a tornado, and only his own words can do him justice:
"I have a fierce atheist pride in what we all have done and the lives we have lead that gives me the strength to do more….I have the satisfaction that I have done something to help the world, even if it was just to import a unique bottle of wine that someone would have never discovered on their own. I have had a great life from marching for the victory of Viet Cong, to bringing real, natural wines to America, to working with vignerons who have made a difference, raising money for Partners in Health in Haiti, and to sticking out my middle finger to every pompous, reactionary asshole I came across in and out of the wine world.
Fuck them and celebrate humanity!"