There's nothing quite like a road trip. No matter how much quicker it is to get somewhere on an airplane or how unique it is to travel by train or ship, nothing compares to the experience of throwing half a house of shit into a car trunk, filling the tank of gas as the first trickles of sunlight hit pavement, weaving your way to the open highway, and remembering 5 miles out that no one is quite sure if they locked the front door. Sure, maybe now the kids in the backseat are busy with their iPods instead of their G.I. Joes, and they're more likely singing Eminem's "White Trash Party" than they are "99 Bottles of Beer" but when the unmistakable groans of "stop touching me," "I have to take a whiz" and "who farted?" fill the air, you know you are road-trip bound.
Part of the gamble that goes along for that ride with you is road trip eating, because unless you've gone ahead and made reservations ahead of time or been given recommendations by a friend, you are essentially at the will of your internet connection and its slew of local finds…and that's about as trustworthy as Dick Cheney on a duck hunt. Not only do you have to contend with the fact that two of you want one cuisine and two of you want something else, and the fact that one wants to sit outside while the other 3 want A/C, but you also have to put a certain amount of trust in online reviews which is about as efficient as pissing into the wind. You are, at the end of it all, at the mercy of The Angels & Demons of Road Trip Food.
So early afternoon finds us on a recent Saturday, finishing up a tour of Bethel Woods and its Woodstock Museum on a trip that would eventually land us in the Finger Lakes of New York. I figured we could check into the hotel, unpack and then find somewhere to eat, but the natives were restless and growing hungry so I whipped out my iPhone to see what was around, trying desperately to keep a grip on my sanity despite the fact that it was about 110° inside the sun-baked car, the husband had a headache and was sifting for Advil in the overflowing trunk, the two thirteen-year-old boys were debating the pros and cons of the NFL draft, and the mother fucking AT&T signal (despite being atop a mountain) was non-existent.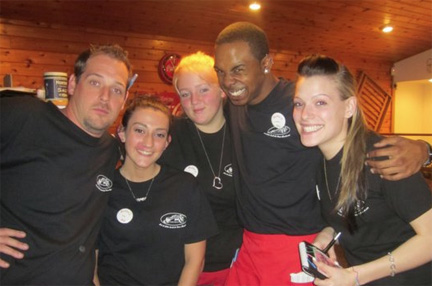 My requirements were simple: food and alcohol. Waterfront was simply gravy. No sooner did I see a few good reviews for a place called Bubba's BBQ than I realized we had just whizzed past it. Perfect—food, alcohol and a waterfront that's close. My kinda place. Turns out Bubba's was packed and really busy because of an unexpected 12-top (might have been more, I can't remember) that strolled in, so we grabbed an outdoor seat down by their little beach-like oasis and quenched our thirst with a cold glass of Purple Haze while we figured out what we wanted to eat. Turns out the sun does indeed shine on a dog's ass sometimes because Bubba's BBQ was every bit the find, not only for its fantastic food but also for its beautiful, warm people, both staff and owners.
Between the four of us, we got to taste their St. Louis ribs, their pulled pork, their chicken, and other low-fat options like the corn fritters, the massive sweet potato fries and the baked beans. All delicious. But it was this incredible sense of family and genuine hospitality that made the meal noteworthy. It wasn't just one nice waiter (Lucas, pictured at the left end)…it was the nice waiter who BSed with you about the concerts held at Bethel Woods, the great waitress who guilted your son for wanting dessert after he couldn't finish his meal as if he were her own, the gracious host who walked from table to table to make sure everyone was happy and fed (and who also introduced you to her grandson, Bubba), the gregarious owner who waxed nostalgic about the best place to find gefilte fish in NJ, and Bubba himself…an adorable chubby-cheeked boy that spoke more like an 8 year old than a pre-schooler. There is no greater pleasure than exchanging hugs and handshakes with a group of people that not only serve you delicious barbecue, but that make you feel like they want you to come back just so you can shoot the shit a while longer.
But of course this wouldn't be an Angels & Demons post if things hadn't gone awry somewhere else on this road trip, would it? Luck is a cruel, cold bitch that turns her back on you while you are giddy off the high of your last meal, and drops you square in the middle of a restaurant you are pretty sure is in the midst of filming an episode of Kitchen Nightmares. Sunday morning we continued the run up to the Finger Lakes and by the time we pulled into Watkins Glenn at the southern tip of Seneca Lake, we needed food. Again, I had been Googling like a madwoman in the car, leaving it to a toss-up between two places, one of which was, again, waterfront. News flash: water always wins. But sometimes winning is losing.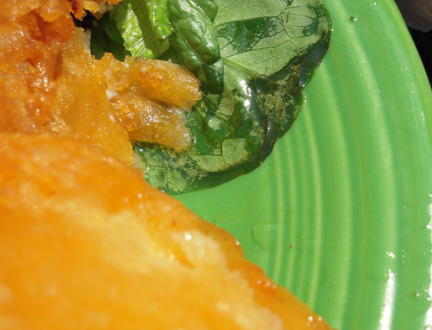 The Village Marina Bar & Grill was the single worst way to ever spend (blow) $85, and I'm not even sure where the litany of complaints should begin though this is certainly par for the course when you base your decision on a quick online menu and a few screwball reviews. First, the food. I was stupid enough to have ordered the beer-battered fish fry, which I guess I somehow misread because I'm pretty sure it technically said "oil-soaked fish fry" on the menu. Take a look at the photo and you'll see the puddle of grease my fish left behind (and that was before I even tried squeezing it out of the batter coating). Needless to say, I stopped eating after a few bites and concentrated on my less-greasy fries and the cold beer they couldn't possibly fuck up. My husband ordered a medium-rare burger, and my son's friend ordered a rare cheeseburger. Turns out there was no need for such silly details because both burgers came out well-done.
Then there was the service. When we first sat down, there was no hiding from the sun so we put on our sunglasses and sucked it up. But when a waitress started pulling out the umbrellas and setting them up on the tables we figured we'd be in the shade within minutes—let's just say that by this point I was getting used to being wrong. She proceeded to put an umbrella at all the empty tables and never came by to ask if we wanted some shade. To be clear, empty chairs got shade, patrons didn't. And when we complained about the overcooked burgers our waitress shrugged her shoulders and said "sorry". But that's OK, when I handed her the signed credit card slip that included a terrible tip I shrugged my shoulders and said "sorry." Hmm, that was a half-lie now that I think about it because I really wasn't.