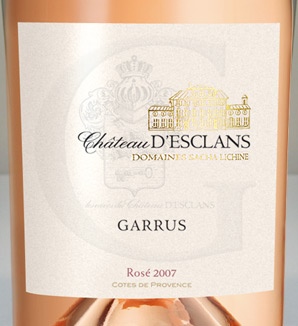 If you're standing in your wine cellar (I know, I've got to use my imagination, too), telling your best friend about this great bottle of Burgundy you just snatched up for $105, you'll not likely be met with a gaping stare. Same goes for a bottle of Bordeaux from an esteemed château, or a Super Tuscan, or a vintage Champagne…or the latest California nuclear fruit-bomb cult wine. But tell that same buddy that you just spent that hard-earned money on a rosé from Provence and there's a good chance you'll wind up in a straight jacket at Belleview. That sort of esteem—that grandeur—is reserved for the heavyweights, not for the light-hearted summer quaffer that rosé is known to be. But as any great renegade knows, flying in the face of convention is often a sure way to earn the esteem and grandeur you've long been denied.
Wine runs through a family's veins right alongside blood…of that I'm pretty sure. If your ancestors were grape growers and winemakers, if there was an estate to inherit, and if more importantly that estate breathed its life from Bordeaux, you knew damned well your future was in making wine in that estate—or at the very least in that region. The thought of anything else is paramount to a sacrilege. But when Sacha Lichine's father passed away, leaving Château Prieuré-Lichine in his hands, Sacha flipped Bordeaux the bird not once but twice, first by selling the estate and then by reestablishing himself in Provence to make (of all things) rosé. The resulting French snicker could probably be heard here across the pond in 1999 if you listened closely enough.
By refusing to fill daddy's big boots altogether, choosing instead to hoe his own row, Lichine was looked at as either fool or madman depending on who you asked—rosé was never a wine to be taken seriously, particularly by the Bordelais. Having been raised primarily as a New Yorker, though, you have to wonder how much he ever gave a shit what a single Bordelais thought of him. After spending 12 years as the head of his father's Château, trying to shake the shadow of a man whom had been regarded as the "pope of wine," he'd had enough of the rain and headed south, determined to make the best (and most expensive) rosé in the world…from grenache…from a Provencal estate that was in shambles.
Now, the rosé that comes out of Lichine's Château d'Esclans is a force to be reckoned with—a force that has taken a huge bite into the high-end market for the pink stuff. Problem is, it's tough to determine whether its price tag is more a result of an unrelenting determination to control quality production or of an insanely clever marketing maneuver. Lichine's 2007 Garrus Rosé is a blend of Grenache with a small bit of Rolle. The grapes are harvested by hand, by pickers who carry dry ice sticks in their baskets…to maintain strict temperature control. The wine is fermented in Burgundy barrels that contain cooling tubes…to maintain strict temperature control. And that maniacal temperature control slows fermentation to about four months' time which no doubt contributes to the wine's incredible complexity. Hell, one whiff of this wine is enough to bring you to a halt. But so will the price.
The wine is, without question, the best rosé I've ever had. Its aromas are intoxicating and far more complex than any of its brethren. Add to that the fact that only 2,000 bottles of it were made, that the Wine Spectator gave the 2007 a 92, and that pretty much the only place you'd ever see a bottle of it is onboard some millionaire's yacht in the Riviera, and you've got yourself that $105 bottle of rosé that your friend was ready to have you committed for. Château d'Esclan's Garrus has no doubt earned a good portion of its price tag from the incredible care and attention paid to making it, but an even bigger portion of its price tag is simply a matter of sly marketing and product placement. Telling the wealthy that you are selling them the single most expensive rosé in the world and that very little of it exists is akin to telling a cafeteria full of kids that there's only one chocolate chip cookie left under the warming lamps—it creates a feeding frenzy. And you know damned well that sometimes the taste of victory…the taste of exclusivity…is sweeter than the taste of the actual cookie.