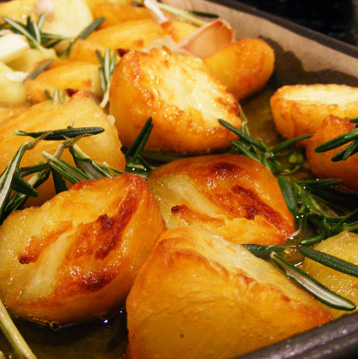 There are few things as comforting to the food-starved soul as carbs. Depending on what corner of the world you find yourself in, it could just as easily be a bowl of warm rice topped with a fried egg, as it could be a plate of steaming pasta dressed with nothing more than some extra virgin olive oil, grated cheese and fresh ground pepper. Hell, I know my kid could make a meal of nothing more than an enormous pile of couscous or a freshly baked loaf of bread! And what's glorious about starches is that they serve as a canvas for your creativity. There's really no chance of fucking up your carb with whatever spices, sauces or leftovers you have lying around.
In the Pizzuto house, the potato has been married with everything from yesterday's taco meat to forgotten string beans, and I'm pretty sure I can make a million different dishes from the humble potato if left to my own maniacal devices, but when I want comfort, I want the creamiest, crunchiest garlic-rosemary roasted potatoes ever. The rules are unbendable for the perfect G-R roasted potatoes, much less breakable…something hardly ever uttered in my "screw the rules" kitchen. But there's more than a little zen involved, and zen has no patience for deviation. So when I found myself staring at a bunch of pork chops in the fridge the other night, trying to piece dinner together in my head, the thought of those potatoes got my gears going.
The art to perfect G-R roasted potatoes requires the following:
Small potatoes (like baby yukons or such) so that the skin-to-flesh ratio is more equally matched.
Fresh rosemary. Save the dried stuff that's been in your kitchen cabinet since last Thanksgiving for something more forgiving.
Fresh garlic. Save the powdered stuff that has made a home next to the dried rosemary in your cabinet for….I dunno. I have no idea why you'd ever have garlic powder….go beg to be flogged.
A parboil. This is part of the crucial secret to those perfect roasted potatoes. If you don't parboil them first, you'll wind up with either raw centers or near-burt exteriors. By parboiling, you get the creamy interior encased by the crispy exterior.
These little chunks of nirvana got served alongside (ohh, who am I kidding, they were the main attraction) pork chops that had been seasoned and dredged in a combination of flour and panko breadcrumbs, then pan fried in a little olive oil. If you're feeling particularly healthy and obligated, it wouldn't hurt to throw in a salad. I, on the other hand, am a strong enough woman to admit that there was no salad that day…the kid got a carrot and that was that.
Wine Pairing – Chateau La Freynelle – 2010   $13
Blend: 50% Sauvignon Blanc, 30% Semillon, 20% Muscadelle
When you mention Bordeaux to most people, thoughts instantly move toward red wines—often big, austere and masculine—but what I love most about Bordeaux is its white wines. The region uses sauvignon blanc as its primary white-wine grape, but the beauty of that region's whites is that they are most often blended with one or two other grapes (semillon and muscadelle usually). Those grapes take a wine that would be very crisp, light and citric if it were 100% sauvignon blanc, and give it fullness, fleshiness and more complex aromatics—the perfect partner for those zen-minded potatoes and panko-crusted pork chops I made. There simply is no need to get a "splurge" bottle for this type of comfort food, particularly when there are so many incredible bargains to be found in Bordeaux. If you can't find this particular wine, just hunt down a white Bordeaux and make sure it is a blend that contains (at the very least) Sauvignon Blanc and Semillon grapes.
Tasting Notes: Big generous aromas of pit fruits…think peaches and apricots…and citrus. Perfect combination of minerality, acidity and butteriness.