Consider this Thursday night leftovers—pulling together odds and ends that should really be eaten before they spoil. A bunch of shit has been coming and going past my desk and I keep saying "ooh, gotta write about that before I forget" and then…well…I forget. For all intents and purposes, this serves as an homage to mental tidbits on the verge of growing storage mold.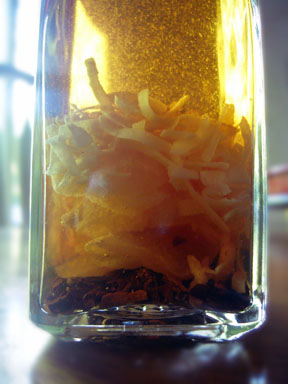 "DO IT 'TIL YOU'RE SATISFIED…"
I've never been a fan of spiced rums or flavored vodkas because more often than not they're made with artificial flavorings and colors and their taste reflects that. An appletini tastes about as much like an apple as I look like Megan Fox. But plenty of cocktail bars are making their own house-flavored spirits and doing the same thing at home is easy as hell. I've made my own limoncello (with buddha's hands), raspberry/sage vodka, jalapeño/orange zest gin, etc. On the right is my latest concoction in celebration of football season, the autumn breezes, and the beautiful death of nature: rum spiced with cinnamon, candied ginger and shredded coconut. Within 24 hours it was ready for filtering. Warm a little up and top it with a pat of butter and see if that doesn't kill whatever ails you. This really is a no-brainer, guys. Leave the artificial crap on the store shelves and make your own. And if you've already given this a go, have a heart and let us know what your combo consisted of…bonus points if you used bacon.

"HEY KIDS, PLUG INTO THE FAITHLESS…"
It's no secret the Germans leave a lot to be desired when it comes to wine labels. While it's important to learn what the hell the difference between kabinett and auslese is, they certainly do nothing to try to lure the modern American consumer. Sure there's a certain stoic stubbornness to be admired in refusing to kowtow to trends, but in the end, if the consumer has no idea what they can expect from the wine inside the bottle, they're much more likely to pick up one that has at least some English on the damned label. But Tesch winery is taking a heretic's approach to marketing their rieslings, and it gets kudos not only for concept but also for execution. When Martin Tesch took over his father's winery he decided to focus solely on quality dry wines, quickly pulling up vines, replanting, and killing any production of medium-dry rieslings. The coolest result to come from all this (all his wines are worth a try, by the way) is Riesling Unplugged—complex enough for the cork dork but accessible enough for the MTV generation. The wine is untreated, so there's no must concentration or chaptalization. What you get is a lithe, perfectly dry wine with plenty of "rocks and fruit" and balanced acidity. Tesch's Unplugged is what more German winemakers should think about striving for: a serious wine with a not-so-serious package.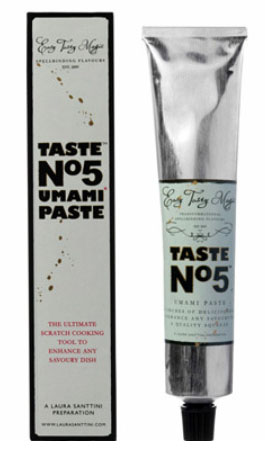 "IT GOES LIKE THIS, THE FOURTH, THE FIFTH…"
I'm calling myself out on the fact that I'm about to somewhat contradict what I bitched about in the first section, but that's how I roll. Sometimes, if a short-cut at least is naturally made, it gets added to my arsenal of pantry musts, because honestly, when you work your 8-hour grind, do overtime as a chauffeur for your kid's football practices, and find yourself lacking the time to even wipe your ass when you take a shit, you don't always have the time to…oh, I dunno…reduce a damned sauce or layer your flavor depth. This glorious little tube of umami-laden goodness is not yet available in the US but you can get it online so bear with me. Taste No. 5 is to savory cooking what underwire bras are to boobs—additional support that serves to "lift" whatever you put it in (or put in it). It's made with tomato purée, garlic, anchovies, black olives, balsamic vinegar, porcini mushrooms, parmesan cheese, and a couple of other goodies…nothing artificial…and a little goes a long way. I made some wild mushroom & bacon risotto last week and decided to add a small squirt of it to half the batch to see if I could taste a difference, and man could I. It was there without being evident, like the underwires.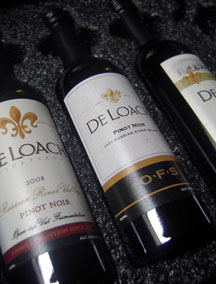 "THEY GOT LITTLE BABY LEGS AND THEY STAND SO LOW…"
This last one I'm not keen on…at all…on two counts. TastingRoom™ is one of several companies now bottling tiny samples of wine (about 1.5 oz each) under the concept that many consumers don't wanna blow a ton of money on a bottle of wine they might hate. Their boxes contain 6 samples that are transferred directly from full-size, finished bottles within a sealed, zero-oxygen chamber. On the consumer's end, you can choose 6 wines from their list to try. Your gamble becomes much less, which makes a lot of sense. On a winery's end, if they'd like to send samples of their wines to the media for review, they can send a larger variety for a lot less cost, particularly if they make expensive wines, which also makes sense. But a lot gets lost in translation. Here's my gripe with these tiny samples: there is no way to truly get a feel for a wine from such a small taste. Can I determine if it's flawed? Sure. Can I get a basic idea of its aromas, its taste and its finish? I guess. But I don't get to see how this wine disrobes after it's in my glass…how it changes. If it tastes a bit hot, does it blow that off after opening up a bit? I have no fucking idea. Will the overly fruity notes subside making room for more minerality? Who knows. And forget trying the wine alongside food unless it's a one-bite appetizer.
My second gripe is with the wines I actually received—6 different pinot noirs from DeLoach Vineyards in Santa Rosa, CA. The least expensive of the samples was priced at $24 per full bottle and ran all the way up to $60 per bottle, so I understand their hesitancy to send out full bottles, but honestly I would've rather reviewed one wine in its entirety than six wines partially. All six clocked in at 14.5% or 15% ABV and even in my "breathable" stemware, they all came across as hot and tannic…so much so that I had a hard time finishing a couple of them, despite the fact that I had less than two ounces in my glass! Honestly, the least expensive ones were the ones that came across as somewhat balanced. The tannins, the oak, the alcohol all blew this delicate grape into a category that might as well include cabernet sauvignon. If that's what they were after then it's a job well done. Otherwise, I'm not impressed, which is nothing new with the bulk of California pinot noir.