The parallels between music and gastronomy, be it food, wine, beer, spirits…whatever, are so numerous and so tightly drawn that experiencing them casually—with no emotional attachment whatsoever—is to do them an injustice. Sure, I guess there's mindless music (I'd throw disco in that category) that isn't really meant to touch the soul as easily as it touches the groin or the feet, and that doesn't discount it as being any less legitimate than any other form of music, and there is certainly mindless food/beverage that merely exists to placate hunger or thirst. Experiencing those without emotional attachment or without pause won't do you or it any injustice at all. But for the most part, musicians (like brewers, winemakers or chefs) who are out to make a mark rather than a buck don't ever want you to use them as "background noise." They're attention whores of a sort, and I say that in the kindest way possible.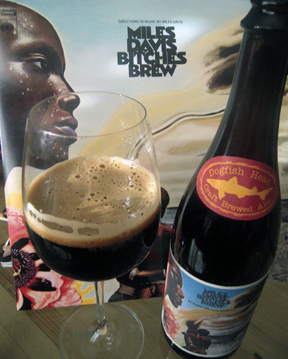 When Miles Davis' now-famous Bitches Brew was released in April of 1970, just a year before I was born, many critics dismissed the music as "obscure" and jazz fans and musicians felt the album crossed limits that shouldn't have been crossed (or wasn't jazz at all). One critic wrote that, "Davis drew a line in the sand that some jazz fans have never crossed, or even forgiven Davis for drawing." Bitches Brew, at the very least was a pivotal turning point in modern jazz…hell, in music, period. It was groundbreaking in its use of post-production studio technology, elaborate rhythm section (two or three drummers, bass players, etc), modal harmonies, and long, free-form pieces. And, if nothing else, it was an irrefutable statement that Miles Davis was unwilling to bend to the norm that was considered acceptable as "jazz." Hunter S. Thompson once wrote, "The Edge… there is no honest way to explain it because the only people who really know where it is are the ones who have gone over." Miles, there is little doubt, did exactly that, and because of that Bitches Brew is now generally regarded as one of the greatest albums of all time.
Then there is another iconoclast—one who has pushed the borders of brewing—who I often find myself giving my full attention to: Sam Calagione of Dogfish Head. For as much as Miles Davis was accused of crossing limits that had been set merely by expectation, perception and tradition, Sam has forged similar tracks in what beer should or shouldn't be. Often regarded as a pioneer in what's now been coined as "extreme brewing," Sam eschewed the traditionalist reinheitsgebot purity law (which states that the only ingredients that can be used in the production of beer are water, barley and hops) and found inspiration in a world's worth of ingredients, brewing in a manner that is easily compared to Miles' jazz.
It was no surprise when I read that Dogfish Head was releasing a beer that would serve as a tribute to Bitches Brew and be released to celebrate the 40th anniversary of the album's original release. Calagione was drawn to Bitches Brew right out of college, acquiring a copy of the album "within months of the first time I brewed a batch of homebrew in my apartment in New York City. I listened to it when I was writing my Dogfish business plan. I wanted Dogfish Head to be a maniacally inventive and creative brewery, analog beer for the digital age. You could say that my dream was to have Dogfish Head, in some small way, stand for the same thing in the beer world that Bitches Brew stands for in the jazz world." Uh, Sam? Mission accomplished.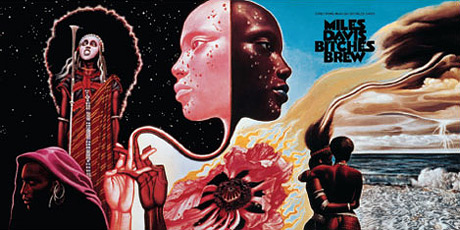 As it turns out, this blog just recently celebrated its second year of gonzoing up the world of gastronomy, but I didn't take a moment to celebrate until I was able to steal a few quiet moments to be able to sit down with both Bitches Brews and see if I could pay them both their due attention, respect and reverence. If I have one minor criticism, it's that I wish the entire album cover had made it onto the beer bottle rather than just the front, because the gatefold artwork expresses itself in a way that can't be captured when it gets halved. But, I'm slicing hairs and should really just shut up. The beer, by the way, is a beautiful imperial stout, that is at once both elegant and powerful—much like the album. Artistry, in its purest form, is seldom about conformity. It is about chaos. For in chaos there lives the beauty of all possibilities existing at once. What the artist culls from that chaos is his (or her) own…and that should suffice for not only our ears or our palates, but also for our souls.