Any man who quotes Anaïs Nin in a book about wine automatically gets bonus Gonzo points from me, and if in same said book he's got wordplay with Blue Öyster Cult lyrics, well I develop a crush that tends to sway me to overlook the fact that I needed to keep a dictionary handy while reading his book, despite being a wordsmith myself, because I've simply never had cause to use words like ecumenical or pusillanimous. Terry Theise, iconic importer and rock star wannabe, will be the first to tell you that "there's a lot of lousy prose and shallow thinking out there" in the world of wine writing, but his is as far removed from that sad description as wine writing can possibly get, and I'm thankful for it.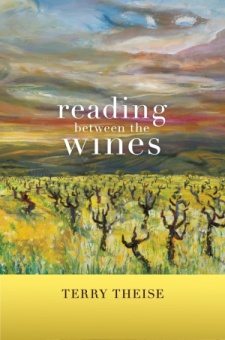 My bookshelves are burdened down with tomes about wine. They're bowed with the weight of books given biblical status for their wealth of information and books that serve as little more than romantic memoirs about wine-soaked lives. But there are very few—in fact only one other I can think of besides this, Nossiter's Liquid Memory—that exist as visceral dissertations on what wine does…move us. Theise's new book, Reading Between the Wines, speaks of wine having the capability of being a portal to the mystic, and his conviction to this end is utterly seductive. There were points when I found myself reading his proselytizing out on my deck well past twilight, sometimes laughing out loud, sometimes nodding in passionate agreement, and other times lost in his candor. It's no small coincidence that Terry describes taking wine-tasting notes as often being obtrusive when you are engaged in what you've just experienced, because I felt the same about trying to take notes while reading this book—"it's like ignoring a rainbow so you can balance your checkbook."
Theise's argument for terroir is impeccable, and one that I imagine would convince even the most hardened New Worlders to bend with the breeze, if only because his argument is sound…logical…clear. He manages to straddle the murky fault line between spirit and substance—between ethos, pathos and logos—and he manages to do it while jibing you about Chateau Bluebols at the same time. I imagine Terry to be the kind of guy that makes you feel like a complete dickhead for being lulled into complacency by the gears of the wine industry, and then consoles you as you lick your wounds by offering you a glass of the most delicate, mind-blowing riesling you've ever let pass your lips. For the limited amount of time we have in our lives to imbibe, it begs the question, why drink what doesn't move you? Why drink the enological equivalent of white noise? His rhetoric is both compelling and convincing.
I have but one gripe with Reading Between the Wines and that is its forced linearity for a style of writing that is otherwise so intrinsically organic. It's like taking an e.e. cummings poem, dissecting it and cramming that dissection into an eighth-grade lit class outline. At times, Terry's views were broken down into a sort of laundry list, and that sacrificed some of the book's "naturalness" in my opinion, but that's probably also partly me being a pain in the ass after one too many glasses of nowhere wine. In all honesty, when I read his description of a red Burgundy, "If truffles had orgasms, they might emit this fragrance" I'm nearly certain my schoolgirl crush kicked in, and I probably just started looking for any reason to find flaw with Theise so that the spell would be broken. Reading Between the Wines is easily the most passionate, poetic, and necessary book on wine I've ever read, and it ended all way too soon.