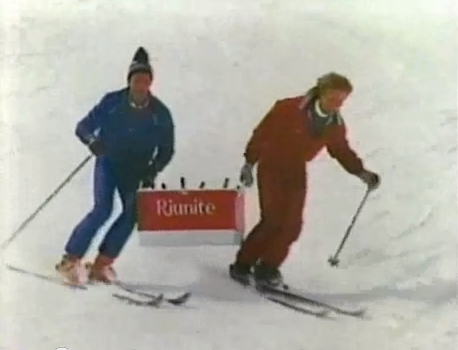 Lambrusco has undoubtedly become a black sheep in the wine industry over the last couple of decades. Actually, if I'm being honest, talk to any wine snob and they'll grimace at the mention of brands like Riunite as if they are far worse than a black sheep…being instead something more along the lines of the family pariah, unanimously outcast for dancing drunk and naked with a basket of fruit on his head at the family picnic while making obscene gestures in front of the toddlers. That's how maligned this stuff has become. But I've always been the warped one in the family that kinda got a kick out of the pariah and felt he was just a misunderstood free spirit, so when I was offered the challenge of taking on a review of Riunite after all these years it has spent in its Elban exile, I of course jumped. Anyone who remembers their French history (and obviously you don't if you were educated in the US) will note that Napoleon did not remain exiled in Elba. He eventually escaped with a small army and with Paris in his sights.
Thus was the challenge put forth: Give Riunite a second chance. Serve it chilled (the meaning of "on ice" as opposed to literally serving it over ice), in a red plastic Solo cup, with some spicy barbecue…and as you drink it, sing the Riunite song. But that simply wouldn't do…it wasn't Gonzo enough. So I retorted, "Tell you what, I am having a Labor Day barbecue. Send over a few bottles and I'll serve it to all the guests, chilled, in red plastic Solo cups, and not only will I sing the song, but I will get everyone to sing the song…ON VIDEO…with a couple of my musician friends playing along." And that sealed the deal.
In 1973, when I could barely pronounce the word Lambrusco, Riunite was a top seller in the U.S. among wine imports, no doubt owing a great deal to TV ads that tied it to a lifestyle everyone imagined themselves having. Those sales did nothing but rise and peak at nearly 12 million cases in 1985, a record that, last time I checked, still stands. Nowadays, Riunite is a name that gets joked about at a hipster wine bar, mostly remembered as the chug of choice when you were in college, but a bottle you wouldn't dream of uncapping now. But for as much as our palates may mature and become honed, the truth of the matter is that somewhere deep down, a plastic cup of cold Riunite is just fucking perfect on a warm summer day, especially when shared with lots of good barbecue and plenty of unpretentious friends. I'll admit I got more than one weird look when I told them that was the one and only wine choice for the day, but my friends know me far too well to think I might be kidding. The R. Lopez de Heredia was safely tucked away for the day, where no discriminating palate would find it. Their choices were Riunite, beer, or juice sippy boxes.
But I underestimated my ability to manage a drinking crowd, fool that I am. Especially one with musicians. So by the time the Riunite had been nearly drained, the pulled pork and jerk chicken had been ravenously devoured, the sun had long since bid its goodbye and the bonfire was lit, THAT's when I remembered that I was supposed to gather this motley crew to record a video. A quarter of them were still up on the deck discussing politics, another quarter of them were inside watching the Jets crush the Giants in pre-season overtime, another quarter were downstairs beating on any percussive instrument they could get their hands on, and the last of us were outside by the bonfire. My happy Riunite masses, much like Napoleon's army, were scattered and I was to blame. The wine had been the perfect elixir for the day, as promised, and I was failing to hold up to my end of the bargain. So the few cigar-smoking, happily buzzing soldiers that were unfortunate enough to find themselves sitting by the bonfire when I called for the sing-along were the ones yanked into this video. From 18 drinking-age singers we dwindled to three, and from 4 guitar players we dwindled to one. The percussionist (that would be me) was unable to wrestle a conga away from the children, so as the saying goes, you get what you get, and you don't get upset. The video is graciously dark, protecting anonymity as much as possible, and the melody was not intentionally atonal so I make no apologies. Perhaps some of you will take on the Riunite Gonzo challenge and come out of it better than this. In fact, I dare you. Enjoy!