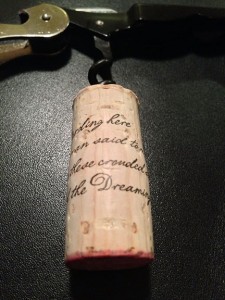 So I'm standing there in the dimly lit kitchen opening my first bottle in Dave Matthew's Dreaming Tree portfolio and my brain starts singing, "Don't drink the water, don't drink the water…" which is rather appropriate because 1. I'm drinking wine instead of water, 2. It's a lyric from one of his songs and 3. there's really never a time when I don't associate what I'm doing with a song lyric. It's an affliction I call SAD—Song Association Disorder—and it's chronic. Someone walking by my desk today with a coworker was telling him about a certain highway and said, "It's a death trap" which I immediately followed up with "it's a suicide rap, we gotta get out while we're young." Most folks either learn to tolerate me, humor me or begin chiming in…it is, after all, contagious.
Considering you only have to look two posts back to see I'm obviously a fan of Dave Matthews, the lyric associations started coming quickly, and yet none of them quite made sense for the title of this post. By the time I was opening the second bottle, I was singing, "Mother, father, please explain to me…" which made absolutely no sense whatsoever (yet I found myself singing it repeatedly anyway), and my folks, by the way, were of absolutely no help here. To make matters worse, nothing from the song the wines are named after made sense, either. By the time I got to the third wine, called Everyday White Blend, I was bopping around the living room like a jackass, singing "Pick me up love, lift me up love…everyday" Tasting and taking notes on the wines was easy. Finding a befitting song lyric for this post's title, not so much.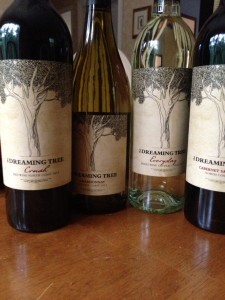 When I got an email from a PR firm to review these wines, it felt like a slam dunk for this blog. But what I realized after I got them was that oddly enough, these wines didn't come from Dave Matthew's own VA winery, Blenheim Vineyards. These babies are the brainchild of Dave and Sonoma Valley's Steve Reeder. Reading that the wines were developed in collaboration with Constellation Brands didn't exactly soak my shorts either, but there I was, judging before I put wine to lips. I had these Quixotic images of Dave setting himself apart from the "big boys," battling their monopolization of retail shelves by making wines that were something more than just "everyday" wines. I was wishing someone had just handed me a fucking glass and said, "Here, do you like this?" That way I wouldn't have been wondering if this was the kind of wine Dave enjoyed drinking when he wasn't doing that sexy little jig on stage, especially after having given up the ganja in the name of global warming. That way I wouldn't have been asking myself if this was a move made in the name of commerce or in the name of passion. That way, I would have just shut my brain the hell up and drank. My tastings, henceforth, need not only be blind but also deaf.

My favorite of the lot was the chardonnay which is not a sentence often uttered on this blog if I'm talking about California, but it's a Central Coast wine (Monterey) that's aged 50/50 in oak and stainless steel. It was chewy and velvety while still managing to hold on to a great backbone of acidity. I could give you a litany of tasting notes that included pear, apple, citrus and of course a little butter, but what I kept coming back to was its balance. The straddling between bright acids and a supple body, the food-matching flexibility, the 13.5% ABV that doesn't kill a Tuesday night. All that was there. And with a tag of $15, it's damn well worth it.
The other white in the portfolio was the Everyday white blend, which was predominantly Gewürtztraminer and Riesling, with some Albariño and Viognier thrown in. Had the blend been completely reversed, I think it would have been more up my alley, but it was still a great weeknight bev that was very aptly named. Stainless steel fermenting kept it bright and crisp, though the more it came to temp (which is how I really get to know a white wine) the less bright acidity I got, and the more that residual sugar surfaced. It was refreshing, aromatic, floral and, like it's sister, would pair well with a lot, especially with that once-again-well-wrangled ABV of 12%. Price tag on this white was also $15…in fact, all the wines I tasted were.
So here's where it gets interesting. The reds I tasted were a cabernet and a blend, and both were tasted over the course of two days…and I preferred both on the second day. The cab had beautiful dusty notes and a dark berry nose, but the first day it was just kinda soft. For many people, soft is great. I don't dig soft so much—nor does Jenna Jameson I'd venture to guess–but some wines, like men, are growers. The second day, after the wine had opened up, the tannins showed up, the nose got bigger and the flavors had bloomed. Same for the red blend (55% merlot with zin, petite sirah, syrah and "other"). The first day it was kinda jammy—the most appropriate perhaps for Dave—and a little flabby. But the second day it was as if I was drinking something completely different. Again, that's when the tannins seemed more in proportion and when the smoky, earthy notes gave it more character and more grip. Both of these clocked in under 14% ABV.
At the end of these four wines, I was still struggling for a song lyric. I was looking back on my notes wondering if these were the types of wines Dave liked to drink during the week…and if they weren't, what did he like to drink? I wanted the wines to be extensions of him. Extensions of his music. Extensions of the groove that radiates and rings from his ears to the tips of his shoes. But that's the fault of expectations as any Buddhist will tell you—having them will undoubtedly cause you problems. Once I let go of my "Dave Matthews wine" expectations and just let the wines sing instead, the music found its way to me.