"You can call me an asshole…"
Just when you think you can't stand another wine label with a cute critter, or a romantic chateau, or an abstract painting, this asshole gives you something new to hate…Hitler wine labels. Alessandro Lunardelli, of Azienda Vinicola Alessandro Lunardelli, and his Italian line of "Fuehrerwein" have been stirring up a shitstorm recently with their pictures of Hitler and slogans from Nazi Germany. When a Polish couple vacationing in Italy brought home a bottle and handed it off to one of their newspapers, the line of wines made headlines and sparked off a blitz of epic proportions. Now, a Jewish human rights organization is calling on wine distributors worldwide to boycott the wines, which Lunardelli says are all in "good historical fun" and not meant to eulogize Hitler and his men…and meanwhile, sales of the plonk are on the rise in Austria and Germany.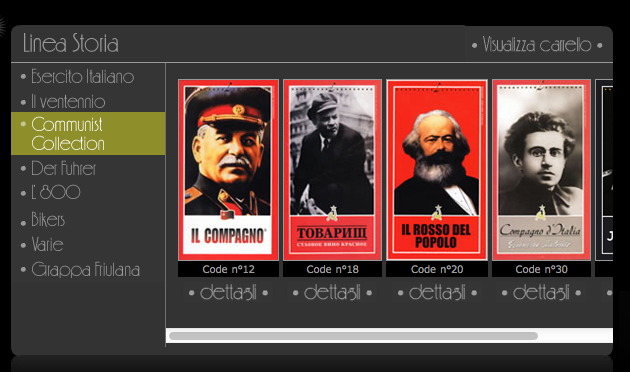 But lest we think this man an idiot as well as an asshole, it's interesting to note that the English version of the winery's website doesn't list these as part of their portfolio. It's only when you view it in German or Italian that the "Fuehrer line" and the "communist collection" (which includes ever-hip cats like Che Guevara, Joseph Stalin and Karl Marx) can be viewed and purchased. And yes, there's of course a Mussolini wine as well. For every Alabama puritan that's ever complained about the Cycles Gladiator wine and it's lovely nude as being "offensive" I ask that you kindly get off your soapbox and pay attention.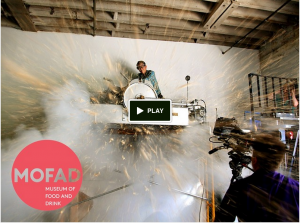 "I got that boom boom pow…"
OK, I'm a little late to the game on this one, so forty lashes for me, but this still deserves a voice, even if it's an echo. Sure, California may have had COPIA, but New York's got MOFAD, the Museum of Food and Drink, and we East Coasters know how to keep a good thing going by…err…funding the damned thing. Still in early launching stages, MOFAD promises to be the hip, cool destination that COPIA couldn't imagine in its wildest, wettest dream, with exhibits like the 3200-pound puffing gun that will explosively puff food. If you are in the City this Saturday, they'll be introducing this mechanical, gastronomical beast at Foley Square. But whether you make it there or not, whip out the debit card and donate to the museum. I mean, seriously, you think any Napa folks would ever have had the balls to build a machine like this just to show you how cereal is made? Right. Which is why COPIA is MIA.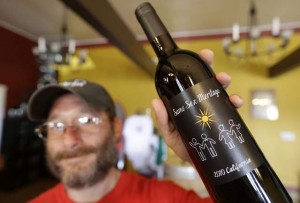 "Marry me, today and every day…"
I'm not sure which side of the fence I sit on for this one, but straddling both sides should not be a problem in this case. More and more wineries are coming out in support of same-sex marriage which is, of course, never a bad thing. Gay, after all, is the new black. Pun intended. Fighting for gay marriage to be legalized is a cause to be lauded. But when it becomes a marketing ploy, I get offended…and I'm not even gay.
Same Sex Meritage, a blend from Stein Family Wines at the very least is putting their money where their mouth is, donating $1 to the advocacy group Freedom to Marry for every bottle sold. Égalité (French for "equality"), a sparkling wine from Burgundy, is following suit by donating a portion of its profits each quarter to a LGBT nonprofit organization chosen by fans of the wine on Facebook. But others, like Barefoot Wine & Bubbly, make no proclamations on their labels, and have simply been supporting gay marriage rights for the last 25 years, donating to local LGBT centers, investing in Pride Week events, and even putting up a 20-foot-tall inflatable wedding cake in front of San Francisco's City Hall to show support for gay marriage. Barefoot's Jerime Black, interestingly enough, admits that with consumers cutting back on luxury goods these last few years, producers began studying the market and looking for "niches". And that, gentle reader, is where the Gonzo eyebrows furrow. Gimmick will sell 1 bottle of wine. But if that marketing plan isn't backed by good wine and, in this case, by true commitment, it won't sell a 2nd.