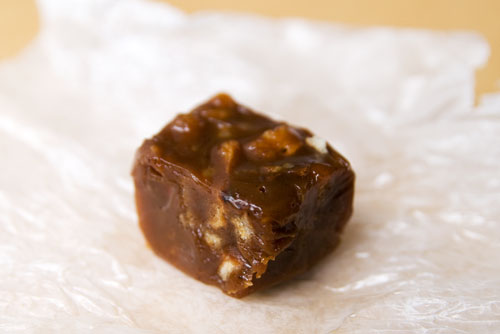 There are few things more difficult than trying not to take credit for something you want desperately to take credit for. Wait, OK, that is a far flung exaggeration, but it's damned difficult, trust me. When I first tasted Liddabit's Beer and Pretzel Caramels at a market where Fulton's Fish Market used to stand, I thought, these women are geniuses. They are men, trapped in the exceedingly superior bodies of women. They have taken the classic combination of beer and pretzels, and made a candy out of it. What more could you demand of food? And with that experience having warped my sense of creation, I hunkered down in my kitchen and tried to replicate the recipe. I didn't completely succeed, but came close enough to call it success…and then spent the better part of an hour wrapping the fucking things.
They were gooey. They were crunchy. They were salty. They were bitter. They were sweet. They were nirvana. Knowing full well that several dozen beer and pretzel caramels sitting in a tin on my kitchen counter would serve my soul much more kindly than they would by hips, I brought some into work. And that's where the internal battle began. The place went nuts. The tin of candy quickly emptied. There were joyful moans heard from afar. And it was all to my credit…right? I mean, I made the blasted caramels didn't I? With no help from anyone or anything other than my ninja-like palate. Right????? But it wasn't my brainchild. It wasn't my Stairway to Heaven, or my Breaking Bad, or my Exorcist, or my Infinite Jest. It was a really good cover version of a masterpiece. So I kept my mouth shut and took the compliments like any good cover band does.
But these women—these glorious, genius, devious women—put out a cookbook. And that, folks, is where I peed my pants. Alas, I thought. I shall have my Holy Grail! Finally, I'd get my hands on the "official" recipe for this food of the Gods. And apparently, I wasn't the only one on an eternal quest for it, because here is how the recipe opens, "There was a lot of speculation about whether we would include this recipe in the book…Some said we absolutely had to include it; others said we absolutely had to leave it out." For those in the latter half, stated quite simply, fuck you. I have had a half-dozen incredible candies from Liddabit Sweets. But had this recipe not been in the book, I have little doubt that I would have coiled up into a fetal position in a dark corner of my kitchen, cursing the women I had grown to love from afar.
But know that this is a proverbial drop in the bucket of what these two ladies from Brooklyn have concocted. This pair is the present and future of candy. Bacon Buttercrunch. Tropical Toffee. King Bars (yes, as in the King, with peanut butter nougat, bananas, white chocolate ganache and caramelized butter). Honeycomb Candy. And then some. The Liddabit Sweets Candy Cookbook is the one that will make you want to take credit for the recipe, which you will likely get more admiration for than you will sympathy for the infernal wrapping of each piece.
And I can comfortably say that I have never…seriously never…wanted to take credit for a recipe so much in my life, as I wanted to for those beer and pretzel caramels. I have credited chefs left and right for the glories that have come out of my kitchen, but I sooooo wanted to keep this one and hug it and squeeze it and call it my own. And if that doesn't merit getting the hell out to buy this cookbook, I don't know what does.