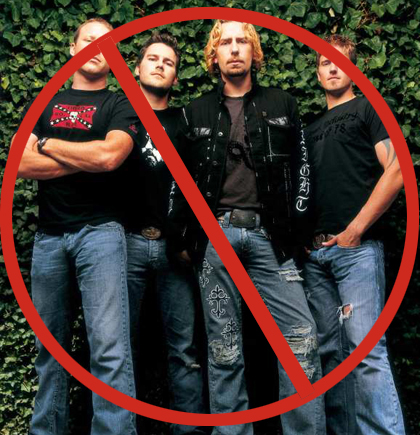 I was once at a friend's party, commiserating (over what was probably one too many shots of good tequila) about how pitifully mundane most music on popular radio is. A woman sat up altogether waaaaaay too proudly and said, "I do like Nickelback, though. They rock." Before my slightly pickled brain had a chance to slow my mouth down, I blasted back, "Nickelback SUCKS! Ugh, I can't stand those assholes." Now that I come to think about it, I haven't been invited back since then.
But apparently I'm not alone in my deeply seeded hatred of that band. Apparently, there are still people with respectable standards for what is and isn't good rock music. And although this is old news, apparently Nickelback was served a big steaming plate of crow by one of its naysayers. All, thank Dio, is well again in the musical universe.
"We'd like to have your delivery truck pull up to this frat party and wheel up a bunch of Dark Horse, then we'll get some crowd shots of the kids holding your cans," was how the conversation started out two years ago. Dark Horse Brewing's head brewer, Aaron Morse (who makes a great, unfiltered Crooked Tree IPA), wasn't so eager to bite. "We don't do cans we have bottles." The Michigan-based brewery's blog went on to detail its desire to pass on the opportunity to have one of its brews featured in a Nickelback video, and it wanted to know what its readers/customers thought.
"It's obvious that this would be a great opportunity for us and maybe get some mainstream youth into craft beer rather than the swill. However, none of us at the brewery really care for the band (or frat parties) so our knee jerk reaction is "no thanks". Morse griped, "Why can't it be some cool band like Slayer? The guy that called said the lead singer is familiar with our brand. What does that mean? Does the lead singer of Nickelback drink craft beer?" My personal guess is that he prefers a good Sutter Home white zin, but who knows.
Dark Horse unsurprisingly declined the offer, despite the dangling carrot that would most likely have meant a great deal of exposure. When the story started getting attention two years later, Michigan Live asked Morse for his current thoughts on the decision. "I absolutely hate that band. It's shit rock and roll that doesn't deserve to be on the radio." And while there really seems to be no better way to sum up a post than with that quote, a Huffington Post reader went on to comment, "Coulda been worse. It could have been Creed."