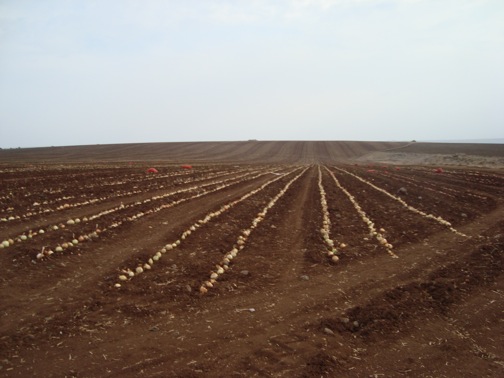 Sometimes, land must lay fallow. After it's been plowed and harrowed, it must remain dormant…unsown…inactive…if it's to restore its fertility. And sometimes, in an equally organic method, it simply needs to be covered with a healthy dose of crap. Only at the best and worst of times are you fortunate enough to witness both happening at once. You lucky devil, you.
Details, as you well know if you read Gonzo, are for sissies. Suffice it to say that 2011 got flipped not one but two birds at midnight, December 31st. It wasn't so happy and it wasn't so healthy. As if because of some higher intention, it covered me with that oh-so-humungous dose of proverbial crap, and left an indelible plow trail behind it. The fact that the blog became an actual effort wasn't lost on me, and mind you at 40 years old, a lot is lost on me. I was this close to just hanging up my hat and dedicating the rest of my measly free time to warming the left corner of my couch and either watching American Horror Story or reading Phillip K. Dick's Exegesis.
But then I had this amazing bottle of wine and I thought, gee what kind of selfish, cold-hearted wench would I be if I didn't write about it? And here we are. Fallow? Been there, done that…back to fertile now and all that jive. PKD's ramblings made about as much sense as Michele Bachmann—I don't wanna read a book whose title I had to look up in a dictionary. What I wanna do is read Ma Gastronomie and tell you it's bloated. I wanna fail at making bread and cry to you about it, and announce that I've decided to make charcuterie instead. I wanna mock the Australians some more and laude the Austrians. I want to warn you about the bullshit that marketers are trying to push on you. I want to make you laugh and cry at the bottle of Sutter Home merlot my husband brought home as a gift from an employee. And I wanna make sure at least 10 posts this year get an inbox full of pissed off commentators, lest I fail at rattling your core for better or worse. I wanna lay a 250 Watt floodlight on the jackasses and geniuses that shape gastronomy.
And then, there's that bottle of wine that guilted me back here. Murrieta's Well's "The Whip". 2010. Livermore Valley, CA. Price tag: $Who gives a shit.99. It's an intoxicating blend of sauvignon blanc, viognier, semillon, pinot blanc, orange muscat (yes, I'm serious) and muscat canelli. It was floral, it was fruity, it was unctuous, it was racy, and it was enigmatic, but most importantly it was inspiring. And that is the tasting note to end all blasted tasting notes, so why continue? The Whip was worth the forty lashes I took this year, cuz it brought me back here.
Damn.
Just when I thought I was out, they pull me back in.