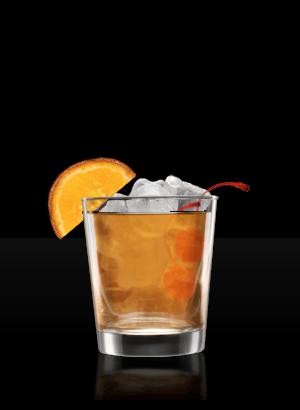 A lot of the time that I'm on my soapbox, going on about beer or wine, I want you all to know I've usually got a rocks glass behind me, tucked just out of view. I'm certainly not nursing it on most given weeknights, but it's there…with its perfectly shaped cubes of ice tinkling my name in some foreign language only elixirs speak. And though I adore nothing more than something as simple as some aged Cuban rum or Mexican mezcal, a well-crafted cocktail can top them both, and nothing sends me into a Pavlovian drool quicker than the Old Fashioned.
Bourbon knows how to make me weak at the knees. Gin is elegant, tequila is earthy, but bourbon is that guy in the leather jacket on the beat-up Indian motorcycle who everyone tells you you aren't supposed to love…so of course you spend a lot of late nights with him, sucking face. And it wasn't as if I fell in love with bourbon at the onset if I'm being honest. Like just about everybody reading this, my introduction to bourbon was the obligatory shot of Jack Daniels, handed to me at college bars and backyard parties, and given that I spent my formative years in a band with a bunch of guys in the midst of trying to claim their masculinity, let's just say I did more than hold my own when it came to shots of JD. In fact, I'm pretty sure my husband will tell you it's one of the reasons he fell in love with me. Discriminating standards, no doubt.
But eventually you grow up and realize if you actually stop and taste the stuff, it's really fucking good. I started buying Knob Creek, Baker's and Maker's Mark and sipping them on the rocks. The smoke, the nutty notes, the butterscotch-covered spice rack all drew me in. And then, this beautiful, wise, cultured woman handed me an Old Fashioned one night, and I figured if it was good enough for her I'd be a dolt not to give it a try. Oh, sweet mother of Jeebuz was that drink amazing. Bitters, sugar, bourbon, a cherry, and a twist of both lemon and orange—absolute, utter perfection. I adore martinis, love a spicy bloody mary, but if it's bourbon that makes me weak at the knees, then a well-crafted Old Fashioned is the one that carries me up the stairs and finishes the job. A poorly made one, however, is as disappointing as the guy in the leather jacket on the beat-up Indian motorcycle eventually is. Then again, that's usually the problem with putting something up on such a high pedestal, but the rewards are worth the risk.
So there is no way you spend your well-earned time drinking nothing but wine or beer—after all, you are part Gonzo. Question is, what cocktail makes you weak at the knees?