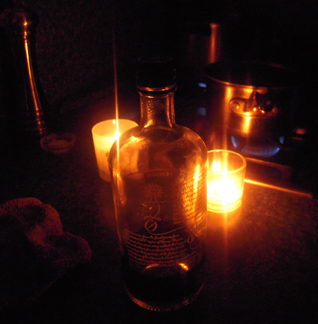 On Monday, August 29th I cried.
Then I fell on black days and shut down…so did my writing.
When Hurricane Irene hit Jersey we were pretty fortunate as these things go, getting no flooding or damage. All it did was leave us without power for nearly 4 days. So we packed up expensive perishables from the freezer and brought them to my in-laws' house, and began living day-to-day, picking up only food for that night's dinner, which was cooked on a gas stove or on the grill. When I found myself cooking in near darkness, aided only by the light of a few candles, I was inspired to write a post about it—about what it really means to cook with your senses when you are mostly without vision, relying on your sense of smell to know when garlic has gently browned, and relying on your hearing to know when the water is boiling and ready for pasta.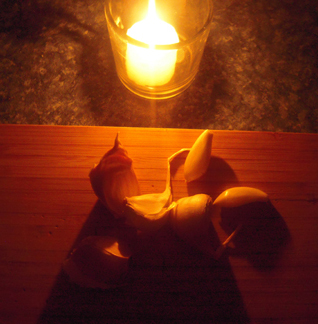 It was a great "gonzo" post, and it had been written by the glow of my quickly dying iPad and the click of my Bluetooth keyboard. But when I went to rename the file, I accidentally deleted it. And that's when I began to cry without even knowing I wanted to cry. Tears flooded my tired eyes and splattered onto the keyboard as that first stage of grieving (denial) overwhelmed me. But there is no recovery on an iPad…no garbage can to rescue a file from…no mother-fucking pity for an accident at all. I went to bed that quiet night, and pretty much cried myself to sleep.
Losing a piece of visceral writing that comes spontaneously from the soul is not something that can be rewritten. I mean, sure, you can write the piece again and post something worthwhile, but at its core it will never carry the same weight because you are suddenly trying rather than writing. And so I began to shut down, not simply because I lost a piece of writing but because of a handful of other ongoing "life problems" as well. I haven't written for weeks, and I wondered if anybody really gave a shit. We all know the wine blogging world is a fickle sort of junior prom, where readers come and go…even the more loyal ones. After a while, comments taper off, and even though subscribers may be reading my words, they aren't engaging back—the conversation…the symbiotic relationship…withers.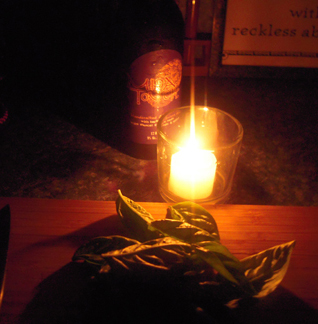 I drank my wine peacefully every night, removing any intellectual interaction that would normally occur when I taste for the blog. I always drink for the soul, mind you, but I began drinking wine and beer completely for the soul with a sort of anarchistic disregard for the need to form an opinion on it. And I was damned happy to do it. But at the end of the day, the unmovable truth is that a writer writes. Every post here is pretty much the opening of a vein. It may be veiled in a sort of performance, but have no doubt that this is a sort of "blood letting" for me—a purge.
Do I want that community of readers back? Shit yeah. Do I want to silence the crickets with the clamor of debate and hilarity? No doubt. But I'm not sure I can get it back, and thus I'm left wondering if my words are mere amusement at this point, falling on deaf ears…or should I say on blind eyes and muted mouths. Huh. What an ironic sort of "full circle" I've come back to, haven't I? Yammering about the senses.