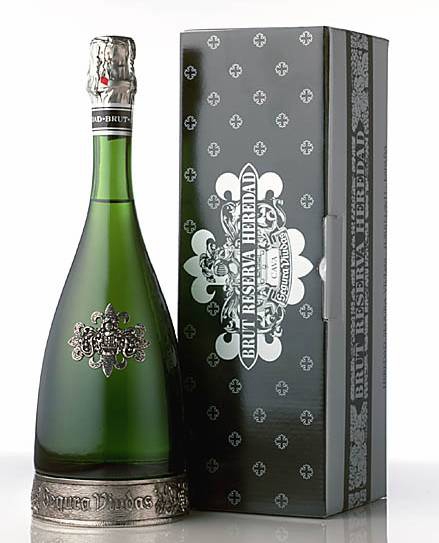 Given my readership, I'd certainly hope that I'm preaching to the converted at this point, but if I go around assuming a reader already sings the song I'm trying to teach them I wouldn't ever bother writing, would I? A while back I had a contest to win a free sample of wine and the chance to guest post a review of that wine, Gonzo style. The lucky bastard was Jeff Eggerman…lucky not so much for having the opportunity to do a little writing, but for getting a free bottle of Cava delivered to his door. That, gentle friends, is the song I'm singing.
It's no small secret that conglomerate Champagne and I don't play together well in the sandbox. I've repeatedly ranted that much better values can be found not only within the fabled region itself, but also outside its romanticized walls. And one of those places is Spain (Catalonia for the most part). When you finally get past believing that serious wine drinkers only drink red, and that bubbles are only for special occasions, a world of  "other" juice can open itself up to you if you let it.
Cava—Spain's version of Champagne—is not a mere bastard child trying desperately to earn respect. It's not a cheap, pale imitation, and it's not in any way an inferior product cowering in the shadow of France. In fact, given the values that can be found in Cavas, you'd be a jackass to continue believing that they're second fiddle to their French brethren at all. And yet, how many times have we gone ahead and acted like jackasses anyhow, bypassing the bottles of Cava for the more prestigious Champagnes sitting next to them on a store shelf? To some degree, we've all been there as wine drinkers.
Whereas Champagne is generally made with the ubiquitous chardonnay and pinot noir grapes, Cava uses grapes native to Spain (Macabeu, Xarel-lo and Parellada)…grapes exotic to the tongue not only in taste but also in pronunciation. Over the last couple of decades, the DO has now begun allowing the integration of chardonnay and pinot as well, and they are being used, but they're still strangers in a strange land. And though it differs completely in its core ingredients, Cava uses exactly the same production method as champagne, undergoing its second fermentation in the bottle to create bubbles worthy of inspiring song.
So when Wine Chateau reached out to me, offering a sample for review, I asked if they'd be willing to send not one but two bottles of a great Cava that they carry—Seguras Viudas Reserva Heredad. One went to Gonzo reader Jeff, and the other came to me. The Reserva Heredad is made only from Macabeo and Parellada grapes, and is generally set aside for four years of in-bottle secondary fermentation. And at about $23 it not only stands up to many $30 – $40 bottles of Champagne, it blows them out of the water with its QPR. Here's what Jeff had to say:
Fine and persistent bead highlighted my prize bottle of Segura Viudas Reserva Heredad, though I must admit I have tasted the wine before ("tiny" was the word I…Katie…used to described the bead, which is never a bad thing). Never a disappointment, this upscale tier from the gigantic Cava house Freixenet is a great reliable substitute for the real French champers (There's lots about Freixenet that I'm not crazy about, but this bottle of bubbles stands on its own). The wine opens with an apple character that morphs into a pineapple-peachy nose. I did not find the toasty, yeasty character I remember from past bottles, but did enjoy the delicate well-balanced character of the wine. (I'd add that it was bone dry, and that lack of yeasty character put it on the more delicate side of Cavas. Some like the toast, some don't, but either way a nicely made, elegant bottle of bubbles). Trusted companion at one point asked, "pine nuts?" (Good palate on the companion!) So for a summation, in few words, I would say:  Likable, Lovable, Drinkable!