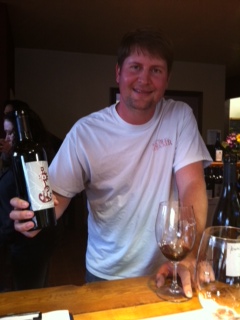 Call it a revolution. Call it a pendulum swing. Hell, call it karmic retribution for all I care. Just know that change is afoot in California winemaking, and the harbingers of that revolution…that swing…that retribution, are growing quickly in numbers.
For a long, long time I have been bitching incessantly about the wines coming out of California, and I haven't been alone in my rants. While many of the popular wine rags and their writers have made a career out of bolstering what I lovingly call the Fruitbomb Fucknut Wineries (and why wouldn't they…they are, after all, financially supported by their advertising), plenty of wine writers have long been lamenting the fact that the overwhelming majority of juice coming out of CA is flabby, overoaked, high-alcohol and overextracted. No acidity, no finesse, no balance, no grace. Yeah, sure, there have always been exceptions. An English Grammar teacher will no doubt tell you so. But the rule, for the last couple of decades has been to placate a cola-guzzling nation by letting them suck on the teats of a fruitbomb-making machine.
But what I've seen, heard and tasted over the last couple of years has gotten me reconsidering how I feel about California wine, unable to continue lumping it into one singularly huge category called "thanks but no thanks." What I've been tasting from more than a handful of wineries is incredibly well-balanced wine. What I've been tasting is nuanced. What I've been tasting is unaffected. What I've been tasting is change. It's no longer a matter of a few exceptions that are swimming upstream and making wines that are the antithesis of what we've come to expect from CA. It's something much more.
Everywhere you look, there are wineries promoting their unoaked chardonnay or their Burgundian-style pinot. Some of them are of course hitching a ride on whatever they thing the next trend is, but I'd bet the bank that most are poking their heads out of the darkness and thinking, I just don't give a shit…I'm making what I want to make. Time and time again, I've found myself tasting these wines and realizing that my argument about bad California wine won't hold water for much longer because these guys are making that proverbial pendulum swing like a damned horsetail swatting at flies. They're gaining traction quickly, and my former opinions have been silenced pretty quickly by a few of these wineries, something not easily achieved.
Krutz Family Cellars has been, by far, one of my biggest wake-up calls…a winery that handed me their Stagecoach Vineyard cabernet in complete defiance, almost like a triple-dog-dare to review what I figured would simply be another big-ass Cali Cab. I was completely blown away by my first tasting of this wine, and have been repeatedly blown away by it, becoming a sort of self-appointed "Krutz apostle", singing its praises to anyone who will give me half an ear. This cab is everything a cab should be…and yes, I say that as if I know what a cab should be with any sort of objective authority, which is, of course, absurd. But I don't care. Their Stagecoach is all at once smoky, earthy, and lusciously "fruity" while retaining a sort of green, herbaceous quality, an incredible backbone of acidity and a complexity that most Cali Cab fails to attain. Their pinot is equally as engaging, leaving behind most of the telltale "cola" signs of its brethren, leaning more on the funk and (again) the acidity that those neighborhood wines lack.
It's completely unfair to hone in on one winery when discussing a multi-faced mutiny, but I never claimed this blog to be fair, just honest. And as I said, I've tasted plenty of California wines over the last couple of years that are searching for that ethereal sense of balance—a balance that eluded them in the past. But for some reason, it was the Krutz Stagecoach Cab that finally let me know that the rip tides are starting to roll away, and that "elegant California wine" is no longer willing to be an exception to the rule. Even more interesting is the fact that their 2007 received 95 points from the Wine Enthusiast an indicator that, previously, would have sent me running to the hills to avoid the wine. Thus, not only is the philosophy of winemaking changing on the west coast, it's taking some wine writers along with it for the ride. Krutz Stagecoach Cab is the first—the cherry popper—the one that made me pause and reflect, wishing I had the spare change to buy a case and revel in it's grace over and over again. But it won't be the last.
Watch really carefully over what remains of this first decade of the 21st century because as sure as I am that my Social Security will screw me good and hard by the time I'm ready to retire, I am sure that there is a reactionary energy surging through California's wine country that will breath completely different life into its wines, leaving its high-octane offspring to become the black sheep.