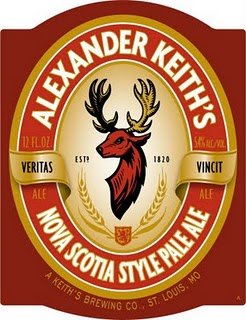 Their bottle-neck dangler screams "Canada" at all points, and pushes the idea of "microbrewery" with every turn of phrase. Wherever you look on the bottle, the words "Nova Scotia" seem to appear. If you are privy to the press release (which the average consumer wouldn't come across) you'll stumble on the fact that, although it's a Canadian brewery that's being fabled, the beers in your hand were brewed in Baldwinsville, NY. That, in and of itself wouldn't be the end of the world, were it not for the fact that the bottles all say that the beer is brewed in St. Louis, MO. Then BAM, it hits you across the face like a lead-knuckled glove…or at least it should hit you the moment you hear "St Louis, MO" and "beer" mentioned in the same sentence.
Alexander Keith's is easily one of North America's oldest breweries, having been established in 1820 in Novia Scotia. Now, after…what…almost 2 centuries, they've decided to sell beer stateside. The three beers available here aren't sold in Canada, though—they were created specifically for US sale and are being marketed as "Novia Scotia Style" lager, pale ale and brown ale, whatever the hell that means. Mind you, I gave no thought to any of this as we cracked them open last Friday evening…my disappointment was purely reactionary to the flavor, or lack thereof. My tasting notes included thoughts like "light head, short finish, only mildly bitter (for the pale), flaccid, typical chugging lager." I was utterly, deeply, fucking disappointed because I was expecting micro and I was given goliath—classic bait and switch. And I was even more disappointed because I had emailed their PR contact beforehand, offering suggestions on how to better reach American beer bloggers and therefore the American market. Ugh.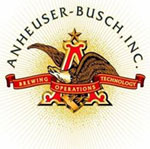 Then I began reading the literature: "noble hops", "two-row malt" and "cascade hops"…and at about the same time my husband asked me why it said "St. Louis, MO" on the bottle if I had just gotten done mentioning that it was brewed in New York. "I dunno" was the immediate answer but it pissed me off because I knew what "St. Louis, MO" was always prefaced by: "Anheuser-Busch". And I was right. I'm always right. But sometimes it sucks being right.
If Alexander Keith's wants to sell themselves to A-B, that's a perfectly legitimate choice. I don't begrudge anyone the hope of expansion…of prosperity…of growth. But we're being sold the idea of "old Scottish brewer making craft beer in Canada" and getting "American brewer making mass-produced beer in New York and calling it Canadian-style" (A-B owns a brewery in Baldwinsville, which is how they get away with avoiding the mention of St. Louis in their press releases and sell sheets). They are banking on the fact that you'll assume you're getting an Alexander Keith's original recipe. They are sure that you won't notice that all 3 beers, regardless of style, have the exact same ABV (5.4%). And they'll bet the farm that you won't ever, ever, ever associate this brand with the likes of Budweiser and family. But this isn't anything more than a wolf in sheep's clothing, and although they have every right to push the envelope of truth in marketing, I have every right to call bullshit.