Yes, I know it's been forever. The cesspool-like combination of guilt, self loathing and general apathy has been lurking in a dark recess of my brain for two weeks now, knowing I've completely fallen out of my 2-post-a-week groove. The blogosphere has no doubt been a little lacking in general snarkiness and raw writing because of it, but I'm not sure how much it's actually been missed. I've got so much shit to catch up on I hardly know where to focus…a sort of gastronomical ADD: "Today I'd like to discuss the inherent faults of the three-tiered system….ooh, look, a chicken." Whining is for wusses, so I won't bore you with why Wench Gonzo hasn't posted more often. Let me just shut up and catch up.
I've got tasting notes out the asshole to hit you up with, but that'll wait until Friday. For now, we've got 4 internet-friendly products you need to know about, for better or worse. Good things come in small packages…small, yummy, funky packages. And what with the status quo being a very boring, safe way to eat and drink, it's no surprise products like these are hitting cyberspace.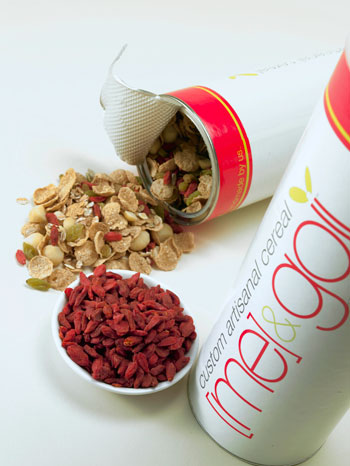 Companies love personalizing a product for the consumer because that sense of interactivity—that reassurance that you are, in fact, unique enough to demand your own stamp on food—is classic bait. That unique stamp comes, of course, with a hefty price tag, and the only way we'll know just how successful they are at charging a premium for customization is to see if they are still in business a year or two from now. For the record, both of these were review samples. The first was Me & Goji custom artisanal cereal—put more simply, cereal cotoure. At an average price of about $10-12 per 21 oz. tube, Me & Goji allows you to blend your own cereal combination, offering 9 different "base" cereal grains and over 30 add-ins, including a bunch of different nuts, dried fruits and seeds. Goji, in case you care, is a fruit found in the Himalayas that is purportedly packed with tons of nutrients and tastes vaguely like dried cranberries. The kicker? You get to NAME your cereal blend. If this doesn't give a sense of self importance to those in perpetual search of the "different" I don't know what will. Rather than being allowed to make my own blend, though, I was sent one of their favorite mixes, "Adam's Apple" which had dried apple, dried cranberry, dried goji, golden raisins, pumpkin seeds and cinnamon. It was, without question, delicious, and I felt a shitload healthier eating that than my occasional bowl of Cinnamon Toast Crunch for sure. And when I sat and thought about it, that box of Cinnamon Toast Crunch sets me back about $4.50 for 12 oz, so it doesn't take much to justify spending an extra 3 or 4 bucks for something much, much healthier. Would I go back and buy this? Hell yes.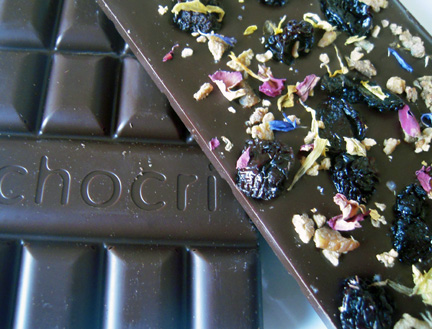 Then we've got something sweeter…something darker…something thicker. No, unfortunately, not porn. In the same spirit of Me & Goji, Chocri creates custom chocolate bars for you, but this time I was not only allowed to customize my own bar…I was allowed to customize two. The second one I left up to the kid, demanding however that he provide his own review in exchange for the free goodies. Mine (shown here) was made with a dark chocolate base and topped with sour cherries, bacon bits, sea salt and dried edible flowers…a funky mix of sweet, sour and salty that worked really damned well. The kid went with dark chocolate, too (bless his little soul), but topped his with bourbon vanilla, chocolate nougat, organic cane sugar and gold flakes. His official review? "Oh my god, this is awesome! Can I have another chunk, please, mom? Please…I'll change the kitty litter." 'Nuff said. Both 3.5 oz. bars cost about $12 each and as good as they were, I can think of several high-end chocolate bar makers that charge half of that (Vosges, Liddabit) for equally delicious, equally supreme-quality products. They may not be customizable, but nowadays who the hell hasn't already thought to throw bacon, edible flowers or gold flakes on chocolate? Would I splurge on these? Nope.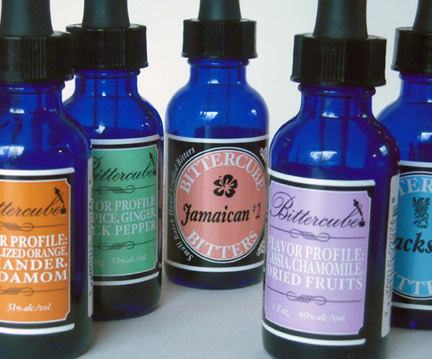 Then we have these unassuming blue bottles made by a start-up called Bittercube, each filled with different, intoxicating, aromatic bitters. For the mixologist, these hand-crafted beauties are an essential part of the alchemy known as the cocktail…that indispensable piece of the puzzle that completes the elixir. Before I tried using any of these in a drink I did what I learned to do years ago—test the aromatics by putting a drop or two on my wrist (like perfume), rubbing it with my other wrist to help the alcohol evaporate, and smelling what was left behind. Each bottle was more intriguing than the next: Jamaican #1 with hints of grapefruit, hibiscus, and island spices; Orange Bitters with aromas of caramelized orange, coriander, and cardamom; and even Blackstrap with molasses, clove, sassafras and sarsaparilla flavors. But what I loved most about these bitters wasn't their flavor profiles, it was their versatility, because the clever mixologist will not only use these with spirits but also with beers and even sparkling wines. The variety pack costs $48 for 6 different bottles and given how natural and well-made these are, and how long they will last (3 or 4 drops usually is plenty in a drink) they are more than worth the price tag.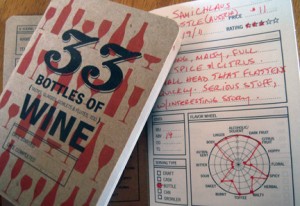 Last of the "great things in little packages" is what I call the 33 series of tasting booklets. The brainchild of a beer blogger who's also a graphic artist (apparently my doppelganger), this series of pocket-sized books includes one for 33 bottles of beer, 33 bottles of wine, 33 cups of coffee and 33 pieces of cheese. I've seen plenty of wine journals come and go, and it's great to see beer finally getting some airtime, but what makes these really unique is what they call the Flavor Wheel. Take a look at the photo and you'll see what I mean. While tasting your beverage, you mark how high or low a value is for a particular characteristic (hoppy, fruity, sour, herbal, etc). When you're done you have a distinct visual interpretation of that beverage, and if you follow your notes closely enough, you'll learn what your favorite ones tend to "look like". Like most journals, there's room for price, vintage, ABV, etc. and to be quite honest, the only thing I can knock these for is for not being big enough. Fuck pockets, guys…we all know that size matters! Each is $4, and a pack of three is $10. Totally worth it.