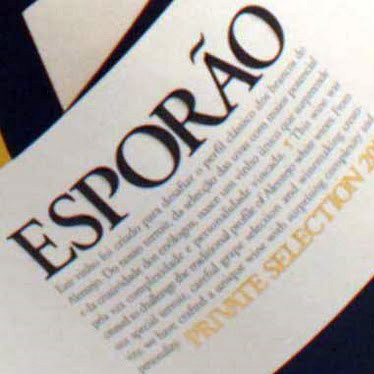 You are a moron. A pardonable crime, to be sure…nearly victimless unless you count yourself the victim of your own moronicness (a gonzo word, I promise you). You've no doubt spent many years drinking wine, and with any luck at all many of those years have been spent drinking the wines of other countries, not just your own. But I'd bet the two crumpled dollars in my back left pocket that you've never given Portugal's wines more than a passing glance and that is why you are a certifiable moron. I'm sure you love its Port wines, and you may have even tossed back a couple of cold glasses of its vinho verdes with some shellfish, but most wine drinkers tend to favor Spain's wines, treating poor Portugal like the slightly deformed, noticeably soft-headed bastard child of the Iberian Peninsula. For that they are morons because Portugal is cranking out some kick-ass wines for years now, half the time with grapes you've probably never even heard of.
I've been telling friends for a year or two at this point, that Portugal's wines are going to be the industry's next Grüner Veltliner—a sort of sleeping giant that's gonna hit the American wine market with a vengeance. And just as I was eating dinner one night, wondering how to focus my thoughts on Portugal for the blog, I received an email with an offer of review samples from a company called Esporão, so I jumped at the chance, hoping I could use them as a soapbox. They came. I drank. I drank some more, and then I did something I've never done before. I actually reached back out to my contact and asked if she'd be willing to send some MORE samples because I was blown away by the first ones and wanted to get a full scope of the company before telling my readers that they are complete morons for not having tasted these wines. She happily obliged.
These are, overall, the best new wines I've tasted in quite some time. Esporão prides itself on focusing on local traditional grape varieties, and 90% of what I tasted was made from grapes I had never even heard of, despite being a member of the Wine Century Club. But what struck me like an enological Louisville Slugger was not the uniqueness of these wines—it was their depth of personality…their expression of terroir…their sense of utter belonging. There is no way in hell you are going to confuse any of these wines with a Chablis, a Chianti, a Bordeaux or a Cali Zin, and even more than that, they were delicious and unpretentious.
Tasting through some of its portfolio, I was turned on to grapes like Roupeiro, Arinto, Antão Vaz, Moreto, Castelão, and Trincadeira. Then, just as I was getting into the Portuguese groove, they turned around and handed me a Rhone-style white blend that included Marssanne and Roussanne, which blew my mind. One after the other, all incredibly balanced, expressive and engaging…all totally unique in character. Better still, these wines were all insanely well priced. I was pissed that I had never before laid lips on these wines…cheated that I had missed so many years of opportunity to drink them…and for not even having heard of them, I felt like a bona fide moron. That's a matter, however, that's quickly rectified.
It has been a long time since I've implored you to go out hunting for a wine, but here's the thing: If you're overweight you tend to go on a diet, if you're poor you go find yourself a way to make money, and if you're a moron you want to learn. You want to be the one who smiles that Cheshire cat smile because you know something they don't. You want to give your taste buds something they haven't had before, and something they will no doubt thank you for. And in the end, exactly what is better than a grateful taste bud or two? Do yourself a favor and hunt down Herdade Do Esporão's wines.