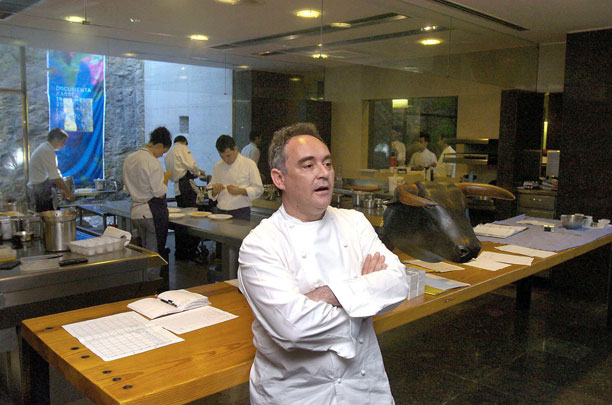 To be voted the best restaurant in the world is no doubt an insanely flattering honor, and an ego boost to be sure. Chefs and restauranteurs spend thankless lifetimes just trying to run a successful business, much less earn a star or two from the New York Times or Michelin. To receive that title five times, though, can be both a blessing and a curse depending on which side of the kitchen doors your standing on, because the top is a really damned far point to fall from, and for as much as people may want to join you up there, not everyone can hack the thin air.
Ferran Adria's elBulli (pronounced boo-yee not boo-lee) sits at that pinnacle at a moment in time when gastronomy is more popular than ever and chefs are attaining celebrity status in a culture that once thought them to be society's fringe. Adrià, despite how many may condemn his style of cuisine, has done more to change the face of cooking than any other chef since Escoffier. Unfortunately, the term "molecular gastronomy" is being used and abused for what Adrià and other innovative chefs are doing, but his goal in the end is still to create a meal that tastes great…a meal that entices all the senses…a meal that forces you to interact with your food and have a heightened sense of awareness when you eat. That work is labor intensive and demands attention to detail—something chefs from around the world would do just about anything to learn, and something that is captured from behind the scenes in The Sorcerer's Apprentices.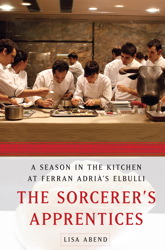 In most recent years there have been about 45 people working in elBulli's kitchen, and the overwhelming majority only worked there for one season. Other than the handful of permanent staffers, the rest of the kitchen is fueled by cooks from all corners of the globe who apply to be stagiaires, willing to leave their homes for six months and go work long, grueling hours in elBulli for absolutely no pay…all in the hopes of learning the ways of the "sorcerer". The Sorcerer's Apprentice follows an entire season and its stagiaires in Adrià's kitchen…a kitchen run completely differently than just about any you'll ever dine from…a kitchen that is an extraordinary machine with a very human soul.
Despite the fact that elBulli's stagiaires all speak completely different languages—French, Italian, Korean, English, Japanese, Portuguese and of course the native Spanish—everyone manages to listen, learn and communicate, even if it's only with the ubiquitous quemo which can mean anything from "get the hell out of my way, I have fragile food in my hands" to "I'm rounding a blind corner so please don't hit me or we'll both screw up service." Variations include: quemo mucho (carrying something really hot or really cold), quemo máximo (carrying boiling oil or something equally capable of disfiguring you), and quemo nitro (literally hauling liquid nitrogen). But more than anything else, quemo is an assertion that they are there, something not at all trivial given that they've beaten out nearly 3,000 people for the privilege of cooking in Adrià's kitchen.
For anyone that is curious about what the hell goes on behind the scenes in elBulli, why it has been voted the best restaurant an unprecedented five times, or why well-established chefs would jump at the chance to start at the bottom rung again if it means being at Adrià's side for six months, The Sorcerer's Apprentices is a fascinating read. It is a microscopic look at the most influential chef in the last 60 years and his "baby". It is a rare peek at the quest for culinary expertise and the frustrations that come with it. It is the unlidding of the world's most revolutionary pot.