By this time we've pretty much been beaten over the head with the whole "farm to table" concept. The shorter the daisy chain between the two, the better the end result. No freezing, no canning, no drying…no international shipping, no impersonal buying relationships, no commodities. And if we take that conversation one step further, there's that whole stigmatized matter of terroir we can take up as well. My Jersey tomato tastes completely different from a Florida tomato, not that I'd ever know unless I hit a farmer's market because the faux fruit that lines my produce section is picked green somewhere in Mexico and sprayed with ethylene gas on its way here so that at the very least it looks ripe. We often drop the term terroir when we wax poetic about wine, but the long and short is that terroir is at the heart of anything sprung from the earth, not just grapes. Even pigs—raised, slaughtered and cooked identically in 2 different countries—will taste different because of the local grasses, nuts and mushrooms they ate.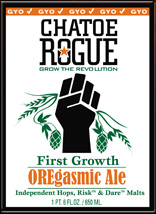 But ask a craft beer geek about his favorite brews and he's likely to tell you that it was not only made with wheat from Bavaria, orange peels from Tahiti, and water from an ancient, remote spring somewhere in the backwoods of East Buttfuck, Belgium…he'll also tell you that it was aged in old Tennessee bourbon barrels and best yet, that it was made with dried, hamster-droppings-like pellet hops. The massive growth that we've seen in the craft beer industry has been matched by its insatiable jones to use foreign, exotic ingredients pretty much negating any possibility of "beer terroir." Add to that those damned hop pellets and at best you've got the alcoholic equivalent of a mutt—or at worst, one of those really horrific muzak tunes that defies identification.
It was only a matter of time before forward-minded brewers started looking at their neighboring winery's vineyard down the road, scratching their heads, and asking themselves why the hell they weren't doing the same thing. It was only a matter of time before experimenters started eschewing hop pellets for the freshness of "wet hops" in their worts even if they were mocked for being wasteful. It was only a matter of time before the terms "homegrown" and "appellation" started being used on beer labels. And it was only a matter of time before the craft beer world sat up and took notice of just how unlocal their beer was, even if (or despite that) it was made by a local brewery.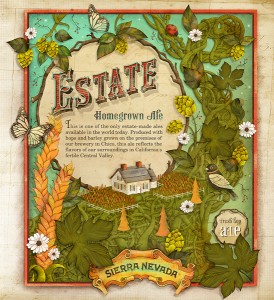 The process of wet hopping has nothing to do with actual wetness—nobody's soaking hops in water, spraying them down or showing them porn. Wet hops are simply the antithesis of the dried hop pellet…they're fresh. And despite the fact that there are several arguably logical reasons not to use fresh hops at the start of a boil (the mess fresh hops leave behind, the steam and froth created by the natural water in the hops, and the waste of aromatics and flavors), brewers everywhere are scrambling to become wet hoppers, racing their hop-filled trucks from farm to brewery at speeds that would probably scare the shit out of Dale Earnhardt, Jr., just so they can get them into the kettle as green as possible. And make no mistake, there is a notable difference in fresh-hop beers. They tend to be more herbaceous, earthy and spicy.
But not to be outdone by their fellow hop hustlers, breweries like Sierra Nevada and Rogue are taking it to the dirt themselves, growing their own barley and hops. Sierra's "Estate" ale (you gotta love the winespeak) is made from organic wet hops and barley that are both grown at the brewery. Rogue, on the other hand, has several homegrown beers, otherwise known as the Chatoe Rogue creations (more play on winespeak): Dirtoir Black Lager, OREgasmic Ale, Single Malt Ale, Wet Hop Ale and Creek Ale. Will I deny that I love Dogfish Head's Pangaea, which is made from ingredients from each of the 7 continents? Nope—it's fantastic. But there's certainly something to be said for trying not only to keep it local, but further to keep it in your own little microcosm of dirt. In an industry swimming in beers that, as artisanal as they may be are still indistinguishable by origin, how many breweries can actually claim terroir? Just as important…do you care?