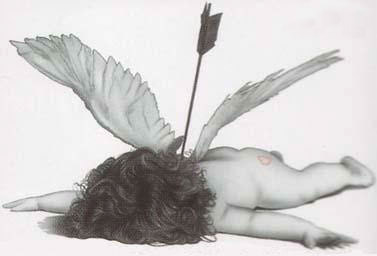 You've got to hand it to those crafty marketing gurus who managed to turn Valentine's Day into the money-making faux lovefest that it is today. There is nothing—absolutely nothing—like dueling for reservations at a restaurant that is bound to serve a limited "special" menu (from which they'll no doubt run out of half the items), rushing to buy a dozen wallet-gouging roses scheduled to die within 4 days, being guilted into spending a paycheck on some piece of jewelry that Jared has been peddling for a month straight, and pacing up and down your local pharmacy aisles as if the weight of choosing the right card was unbearable, all so you can hopefully (if she doesn't drink too much and pass out) get some. I like pre-scheduled displays of love about as much as I like an un-anesthetized tooth extraction…maybe even less. Last time I checked, romance existed in a sort of self-contained state of organic spontaneity.
Perhaps it's age that reprioritizes shit in our hearts, I'm not really sure. What I am sure of is that I find it much more romantic if my husband remembers to pick up a pint of my favorite ice cream if he knows I've had a week in the weeds, than if he buys me a ubiquitous box of mediocre chocolate on Valentine's Day. A random act of kindness—an unexpected gesture of thoughtfulness— however small, beats the crap out of an LED-candlelight dinner at Luigi's every time. In fact, I have this vague memory of being on a date with the poor sod who would eventually become my husband. We were in his little Toyota MR2 (with a stick shift), on our way to a movie…or dinner…or drinks…or who knows what. What I remember was that he had his right arm around my shoulders the whole time he drove, forcing him to shift gears with his left hand. An awkward maneuver at best, a dangerous (albeit romantic) moving violation at worst. Then, of course, eventually you get married and god forbid the moron tries doing that again, you find yourself berating him for being wreckless—that's the blinding sucker punch marriage can deliver to romance.
Food and wine are inextricably linked with Valentine's Day, of course, to the point of one very inundated Gonzo email inbox. "Romantic Cocktails," "Wine Apps for your Valentine," "Chandon Asks, What Would Cupid Do?" and the list goes on. But what I want to entice my readers to do is eschew all the media-hyped merriment and show your love on some random Tuesday. Veto the damned thing and think about writing a love note with a Sharpie and scotch-taping it to the fridge instead. Then rethink that whole food/wine thing…
It may just as easily be the sound of a lover whispering in our ear, or the sound of a champagne cork being popped, and the gurgle of the bubbles hitting the glass. Whether it is an oyster slipping from its shell to your mouth, or someone engaging you in a kiss, the sensuality of food is what makes it a turn on, not which day you eat it. Once an amazing meal has been prepared, served and eaten, once the warmth of the wine and spices are pulsing in your blood, and once the anticipation of a kiss enters your soul, only then will you know that any day has the potential and capacity to become a display of love.