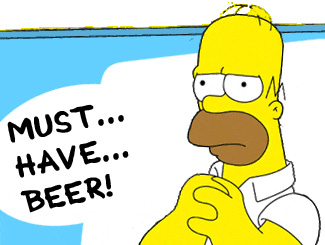 Him: Yo, hon, we got any beer up here? (head stuck in kitchen fridge as if he were spelunking)
Me: Yeah, I'm pretty sure there's a bottle of Samichlaus left there. The rest is in the beer fridge downstairs.
Him: No, babe, this is malt liquor. I want a beer.
Me: Malt liquor is beer.
Him: No it's not. Malt liquor is malt liquor. (Can't argue with that logic)
Me: Malt liquor is just high-alcohol beer that's only mildly hopped. It's gotten a bad rap over the years, but that's the technical definition.
Him: Seriously? OK, whatever, but I just want a beer (he whines as he heads downstairs). Katie, there's no beer here, either…I see lambics, stouts…what's this? Wit fermented with pinot noir? What the fuck, Kate? I just want a beer.
Me: That is beer, Mike.
Him: You know what I mean…beery beer.
Me: "Beery" beer? (he's now back upstairs with a look in his eyes somewhere between mild annoyance, thirsty desperation and homicidal tendency)
Him: Don't toy with me, woman. All I want is something cold and frothy that I can toss back with a burger. Something I don't have to "appreciate".
Me: Ohhhhh, well why didn't you say so? You kept asking for beer, not for piss water. Had you asked for piss water, I would have pointed you towards the neighbor's garage where he keeps that fridge chock full of Coors Light. But you kept saying beer. You can't expect me to understand these things…say what you mean.
Him: So next time you ask me if you look fat in a pair of jeans I should say what I mean?
Me: Fuck no! We're talking beverages here, not fragile self-esteem issues! Jesus Christ, dude, it's a matter of semantics!
Him: Semantics? Bloody hell. All I wanted was a fucking beer…