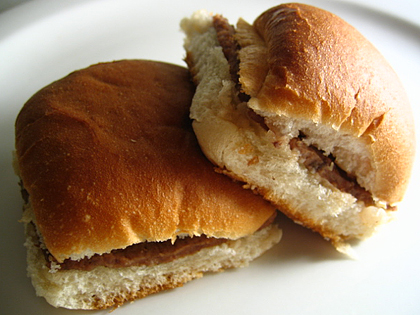 I've got a friend who is a HUGE Rush fan. He's seen them live more times than he's visited his in-laws, owns every bootleg known to man, and can recite each member's biography with the nostalgia of having lived it himself. But one summer night, after a couple of Bombay Sapphire martinis had begun to take hold, he made a startling confession to me about a guilty pleasure—Barry Manilow. Yeah, it's ok, laugh…God knows I did. But despite the fact that I can still remember how silly he looked singing a horrible rendition of "Could It Be Magic," it only serves to make me respect him even more because, after all, we are human, and we ALL have a guilty pleasure—not just in music, but in gastronomy, too.
See, here's the thing, I love foie gras, caviar, a fine Burgundy and Pellegrino. But I also love (and I can admit this because you've never actually met me) White Castles, Beefaroni, Tab and those little wax bottles with the liquid sugar rush inside. I've dined at some of the greatest restaurants in the world and had meals that are indelibly etched in my memory, but it doesn't change the fact that every once in a while, when no one is home except me and the two cats, I will sit down to a peanut butter & Fluff sandwich…on WHITE bread, not the healthy stuff. The cats get a little peanut butter, too, just in case they're thinking of ratting me out. And if you've never had the pleasure of treating yourself to a Drake's Yodel or Ring Ding, do me a favor: put down the Riedel stemware, step away slowly, get in the car and drive to the market as fast as you can, forgoing the need to stop for any idiot pedestrians.
Perhaps it's a matter of taking back that sense of empowerment—of telling all the health guru fucknuts to go to hell, of disregarding the holier-than-thou opinions of your foodie/wine geek friends, or of simply flicking that little angel off your right shoulder in order to pay closer attention to his nemesis on the other side. Certainly by now we are probably opting for the whole grain choices in the pasta and bread aisles, bringing home 2% (or worse yet that intolerable skim) and leaving the whole milk alone, or at the very least cutting down on the amount of meat we eat. But why? Is it always because we're trying to improve the way we eat, or are we sometimes compelled to do it for fear that someone will open our refrigerator and chastise us for its contents? You're gonna tell me you've never felt pressured to give up that delicious whole milk that washes down the fresh-out-of-the-oven chocolate chip cookies?! You're gonna tell me you've never hidden a box or can or bag of something in a dark recess of your kitchen cabinets (or worse yet, in a completely different room) only so you could eat it in the comfort of late evening's solitude? Bullshit you haven't.
So I asked around, and when promised anonymity, several friends and co-workers have admitted to the following gastronomical "guilty pleasures":
–       UNCOOKED Ramen Noodles, right out of the container, crunch and all
–       McDonald's Chicken Nuggets…what, that's not bad enough? Did I mention she dunks them in the chocolate milk shake?!?
–       Spaghetti with ketchup (a distant cousin of my beloved Beefaroni)
–       Skillet-fried Spam with pineapple
–       Frozen Pop-Tarts
So my question is, what's your guilty pleasure? Don't sit there with your nose in the air and tell me you live on haute cuisine, because I know somewhere deep down, in places you don't talk about at cocktail parties, you WANT that NYC dirty-water dog, you NEED that cold left-over pizza. It's ok, the first step is admitting it.