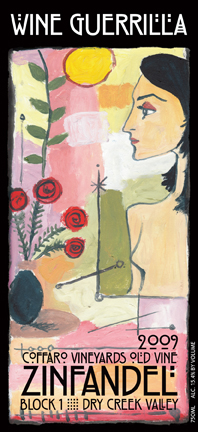 I knock a lot of wine here, despite the fact that I was raised being taught that generalizations are for the ignorant. And I know most of you enjoy it when I knock a wine here and there, if for no other reason than most blogs can't be bothered to be honestly negative about a wine…particularly free samples. But with the limited amount of time I have in this life to drink wine, my propensity for gambling on one that I doubt I'll like is next to nil. Sure, there are exceptions to the rules, but I don't have the time, inclination or money to waste in finding them, so zinfandel for one is simply never on the shopping list. My palate's been assaulted by way too many zins that were no doubt made for a nation of babes that were brought up on the teats of a soda can—good for them, bad for me. I've never been a fan of a two-glass buzz and purple teeth for wines that have zero finesse and might as well carry a categorical rating on their labels:
*Kicks your ass
**Kicks your ass and your palate
***Beats you senseless and numb
****This isn't wine, it's a ticket to an ICU
So when I'm contacted by a winery that doesn't bottle a single wine that isn't zinfandel-centric, I'm honest enough to wave my anti-zin flag…basically the equivalent of something like, "Uh, I generally really dislike zinfandels because of their lack of elegance and grace. I think they tend to be cumbersome, heavy-handed oafs, and I kinda like you so I don't want to be forced into a position of dissing the wines of someone I like…which I will do. So maybe one of the other gazillion bloggers out there who will undoubtedly kiss your ass is a better choice?!" Fair warning. But blessed be the winery with balls because the answer was, "I'll take my chances." When your wines run in the $30 price range, sending me 3 different bottles is nothing if not ballsy.
Guerrilla warfare is all about the ambush. It's about harassment and unrelenting sabotage—a civilian insurrection. So when you go ahead and call yourself Wine Guerrilla you're certainly setting a standard of expectation for your juice in this industry, particularly when you're dealing with a grape that's already known to do some serious damage. Question is, who's your quarrel with? What regime are you looking to take down? If it's an attempt to dismantle the stronghold that other zins have in the marketplace—a coup meant to unseat the brutes—well then, success is yours. I guess I'm just thinking that beautiful paintings of graceful, poorly-clad women on your labels doesn't exactly suit your name, but perhaps that's an oxymoron you intended—because the wines do have grace.
My favorite of the bunch was their 2009 Coffaro Vineyards "Old Vine" Zinfandel ($40), which is blended with carignan and syrah, and weirdly enough it had the highest ABV (15.4%) of the three. It had this great dusty, meaty nose—think salami—and great acidity. No flab, no jam. I know zin lovers are gonna hate me for this, but I've yet to be blown away by a 100% zin wine. Well, wait, let me rephrase that because I've been "blown away" by plenty of them, and that's the problem. I've yet to really enjoy a 100% zin wine. And I think that what makes this bottle so thoroughly great is that the carignan and syrah tone it down and give it its complexity. Would I pay $40 for it? No. But I'd imagine it's more than worth it for a real zin geek.
Another great blend was their 2009 Conte Vineyard Russian River Valley ($30). This one had petite sirah, carignan, alacante bouchet and grenache thrown into the mix, and again those grapes helped give the wine character. That unmistakable zin "pepper" was there (and it was dark as fucking ink) but the powerhouse was tempered a bit by the acidity and tannin of its blending buddies. This, like the others, merits a hearty meal served alongside it, by the way. This isn't your evening sipper. I had it with a juicy, rare hamburger made on my cast iron skillet.
Their straight zin—2009 Adel's Vineyard Dry Creek Valley ($30)—was my least favorite, but I was so pleasantly taken by these wines that I'm not going to bother putting it on the ropes. All of these are small production beauties (under 500 cases, and some under 200) and they are neither filtered nor fined, something I did a little happy dance about, as I'm pretty sure filtering and fining would've stripped these of what made them so damned likeable—their grace.