Up until recently, negociants have been more of a French phenomenon—buy wine (or must, or grapes) from a winemaker (or grape grower), bottle it under your own name, and distribute. The average, non-cork-dork wine consumer here in the US usually has no idea that when they buy negociant wine (like Georges Duboeuf) they are buying a wine from someone who generally owns no vineyards of his own. That aspect of the industry has taken many a hit to its reputation over the years, but that's for another blog to rant about…the bee in my bonnet is a domestic one.
Whether we as consumers realize it or not, there is a slow, steady slaughter underway in the wine industry of the west coast, where there once was a well-oiled, nicely lubricated machine. More and more wineries are now staring down the barrel of failure, and the scramble to dodge that silver bullet has everyone—banks, consumers, retailers and other wineries—really fucking nervous. No doubt, this has created a buyer's market, but at what expense? All you have to do is stand at the center of town in Napa, Walla Walla…whatever…and throw a stone to find a winery that has a shitload of wine warehoused somewhere because they can't sell it—hundreds of thousands of cases of high-end, "boutique" wines that normally sell for nearly $100 that just can't be moved in this economy. And at a time when banks are circling like vultures because wineries are in foreclosure but their collateral (the wine) is all but worthless, there are only degrees of losing. Enter, stage left, the US version of the negociant.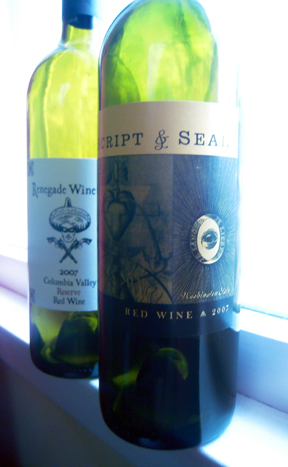 While sites like Cinderella Wine, Wines 'Til Sold Out, The Accidental Wine Company and Lot 18 are springing up like pimples on a teen, there's still no way they can unload all the warehoused inventory these wineries need to liquidate in order to stay in business. That's where companies like Cameron Hughes, Renegade Wine Company (owned by Trey Busch of Sleight of Hand) and now Garagiste are picking up the slack, buying these leftover ultra-premium wines, bottling and labeling them as their own, and selling them at insanely low prices. So when a very prominent winery quietly goes looking to sell off their wine so they can drum up funds, they undersell it…to a negociant, demanding their name never be revealed to the public lest it tarnish their rep. Talk about a scramble. This is NOT declassified wine, folks. This is the same shit that gets bottled and sold under the winery's label for up to $100, and someone as smart as Renegade Wine Company comes along and buys it, slaps their own cork and label on the juice and it winds up being sold for $16.94 via an email offer from Garagiste. Once wineries realized they could sell their wine rather than store it, and do it without damaging their street cred, they started jumping at the chance to salvage their bottom line and stay afloat.
But here's the rub, and it's an interesting one to say the least. Consumers have of course started trolling the waters, buying up as many of these "mystery wines" as their shallow pockets will allow, but they're not all necessarily thrilled with their scores, and I'm wondering how much perception plays a roll in this new game. All it takes is some forum surfing and you'll read comments like:
"I'm quite bummed I paid $17 for this…can't imagine how I'd feel if I paid the 'retail' of $70…down right shocked and angered, I suppose. I feel like I can get wine like this everywhere for $15-20."
"I am a bargain shopper, and this is a pretty good value, but certainly not at the original price of $70. In this economy-market, it's fairly priced, but not worth much more."
"It's hard to imagine that anyone would plan to sell this for more than $15."
"If this wine was supposed to be a $70 wine…I would have felt taken in the worst way if this was a winery's flagship wine. There is a reason it was sold and bottled under a different label. Don't get me wrong, it is certainly worth the $16 and if I hadn't known the wines origins…I would have been happy that I spent $16 on it. As it were, I still felt kind of cheated."
Perception, at the heart of it all. The wines with high price tags (and equally high expectations) will often just "taste better" because of their pedigree. But because these particular wines weren't expensive, you have to wonder if consumers simply didn't expect them to be very good…or don't give them the proper opportunity to strut their stuff. Then again, maybe not. Perhaps this is all a bold slap in the face to those cult wine lovers who go after these wines like a holy grail. Maybe…just maybe…that wine isn't worth any more than 17 bucks, and the balance of that $100 they were spending on that wine a couple of years ago was to uphold an image…an air of superiority…meant simply to keep the winery off a bank's foreclosure list.