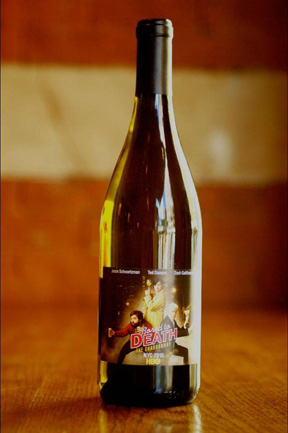 BORED TO DEATH PT. 2
(see here for Part 1)
Coupe via Email: My guess is that we had different opinions on the wine…
Me via Email: What the fuck, Lou? We agree while we disagree!…
Coupe: This wine is honestly fucking great. I normally enjoy the oaky, creamy, buttery messes (your description), yet I still loved it. You love the dusty, minerally, no fruit, tastes-like-dirt wines (my description), yet you loved it…
Me: Oh, horse crap, I like fruit in my wine, I just don't like jam in my wine.
Coupe: Who are you kidding? I read your reviews.
______________________________________________________________
For those that don't remember (or didn't even know), Coupe was the winner of our first Gonzo giveaway…a bottle of Bored to Death Chardonnay to review along with me. Coupe (Lou) thought I should include Rocky Balboa's speech to the Russians about how we're not all that different, but that's a whole lotta direction for a first timer. He wants to quote a slur-fest, he can get his own blog. Here, for better or worse, is our he said/she said review of HBO's Bored to Death Chardonnay. His notes are first, followed by my comments in red italics:
If you are a fan of a crisp, austere, mineral-driven chardonnay made in a Chablis-like manner, my advice is for you to take this bottle, carefully wrap it in a protective towel, take it to a beautiful mountain vista with a loved one, carefully and lovingly unwrap the bottle…and toss it off of the mountain. If you have some sort of incendiary device, attaching it to the bottle for added explosion would be optional. What Lou meant to say was, "If you are a fan of flabby, club-me-over-the-head-with-oak, high-octane chardonnay made in a Cali-like manner" you should toss this off a mountain, but proceed…
Fortunately for me, I do not like my Chardonnays that way (meaning "Chablis-style", but I do like them that way). In fact I love the tropical fruit aroma that almost punches you in the mouth after pulling the cork—especially if I am not having it with dinner. I like my tropical fruit to tickle, not punch, but that's just how I roll. This wine was not a one-sense wonder however, as the tropical fruit salad also carried over to the palate where it was joined by what can best be described as a finish of banana cream pie. Dude, lay off the doobage…this is wine, not dessert. This wine is a hedonistic, fun, great sipping wine, that would be even better if drunk while sitting by a pool, or in an indoor pool bar. An indoor pool bar? I must be running in the wrong circles. Though ostensibly a dry wine (holy shit, we agree on something), it was so fruit driven as to have a hint of sweetness to it. It was all I could do to resist sticking a brightly colored umbrella into my wine glass. Is anyone surprised here? Where have all the cowboys gone?! All the while though, I could not put my finger on what the wine reminded me of.
I offered a glass to Mrs. Coupe who was happily sipping a glass of her Chilean cabernet, and who is not a fan of white wines. Grounds for divorce, IMHO. I kid, I kid. She humored me by taking a sip, and then took another. She humored you? Never mind, she's a keeper. I asked her what she thought and she said that she really liked it. She said it reminded her of a mix of a nice German riesling with a chardonnay, but in a good way. And bam…you know what? She was right. I was now able to put my finger on the taste profile. It had a bit of a Riesling profile, but without the acidity, and with a fuller, richer body. Strangely, at least for me it was a mix that really worked (though I could see some that would really hate this wine). Here's the rub…I wholeheartedly agree with Mrs. Coupe's assessment, but not with him. It DID have the acidity of a riesling and the fruit of a chardonnay, hence something like a…dare I say it…Chablis. This wine underwent no malolactic fermentation (which normally makes a chardonnay round bodied and, oftentimes, flabby). It also underwent no oak aging. And still he insists it's not Chablis-like?!
While not profound, it was a delicious, fun wine—something I enjoyed tremendously. Mrs. Coupe also enjoyed it. She actually put down her cabernet, got out another glass, and poured herself a nice glass of good old Cali chardonnay…compliments don't come much higher than that. I'll call this a 92-93 point effort, and one that I really enjoyed. I will seek out more bottles of this maybe from City Winery, though I know they may be tough to find for a novelty bottling like this. I do think it will be worth the effort, however. Ended up at the same hoedown, but took two different horses. I somehow completely disagreed with his take on this being anti-Chablis, and yet I agree that it is a delicious, fun wine. Finding a chardonnay from CA that doesn't taste like Dole pineapple juice stirred with a 2×4 is a rare cause for glee in my house, and that's what this wine was—like he said, compliments don't come much higher than that.