In case you haven't been made aware, Wine Enthusiast Catalog has just finished launching The Winery Club, otherwise known as the I-Don't-Give-A-Flying-Fuck-About-Conflicts-of-Interest Wine Club. Apparently, the fact that their sister publication Wine Enthusiast Magazine is, in theory, a source of unbiased wine reviews for a consumer base whose pockets are not quite so greased, is of little (if any) relevance. In fact, to the contrary, they readily admit that they are, "the first wine club with a direct relationship with the most famous wineries in the country!" I read things like "we've developed close relationships with many of the world's leading wineries" and begin wondering just how relative a term "close" is, particularly when it comes time to reviewing those wines and pushing product. There's a lot of knocking boots, but the consumer is inevitably the one that actually gets screwed.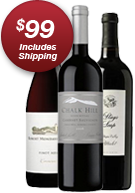 When Wine Enthusiast launched WineExpress, I laughed until I nearly hurled. The thought of a magazine remaining impartial in its review process while it busied itself profiting from the very wines it touted was laughable. Trying to maintain a pretense of objectivity was laughable. The fact that Tim Moriarity defended the incest with, "Magazine reviewers have no knowledge what items are being sold or considered for sale by WineExpress" was laughable. Better put, what it was, was complete disrespect for and condescension toward American wine consumers. So now a wine club? The press release continues, "Just a few of our outstanding selections in upcoming packages this year include the celebrated wines of Stags' Leap, Chalk Hill, Foley, Beaulieu Vineyard and Sebastiani." Chalk Hill and Sebastiani, for those who don't know, are both owned by Foley, so that list is basically Stags' Leap, Foley, Foley, Beaulieu and Foley…a cozy threesome if ever I saw one, especially since Foley was also named Wine Enthusiast Magazine's Person of the Year for 2010.
Not long ago I wrote about the glut of overpriced cult wines sitting in warehouses, and the companies that are acting as negociants to resell the wines at deep discounts. What's going on up and down the west coast is a scramble to avoid the so-called shitstorm they're now caught in, and those that can't unload their inventory will find themselves staring down the barrel of foreclosure. It's those very same paycheck-price-tag wines that are ripe for this club's picking and I wouldn't be surprised if the overwhelming bulk of The Winery Club's 2011 selections come from those very warehouses, while calling to mind the great reviews and high ratings they received in previous issues of the magazine. Cozy.
But in the end, it's the unbridled arrogance that I love best: "You know you're receiving the pinnacle of quality when your wines are being chosen by the most knowledgeable in the industry." Apparently their ability to select a wine that I will enjoy is better than my own, despite the fact that they don't know what I like, and more importantly don't care. Perhaps for the ignorant masses—those that would sooner trust a hooch pusher than their own palate—this is a selling point. Perhaps there are enough sheep out there to line the pockets of this up-start and keep a few wine industry giants in bed. Perhaps I'm one of only a few that actually mind being told what to drink by someone that has a vested interest in what I drink. Fuck you, I won't drink what you sell me.