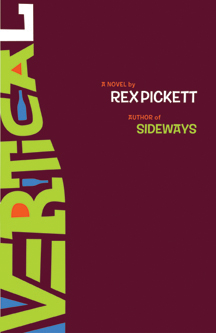 I've watched the movie Sideways probably a half-dozen times, repeatedly pulled back in by an ideal combination of cinematic ingredients: a story that centers around wine, an actor that deftly embraces both comedy and tragedy, and a willingness to mock itself a bit. When Miles and Maya wax eloquent about their love of pinot noir or simply of wine respectively, I find myself nodding silently because the soliloquies capture the core of how a wine geek (and particularly a pinotphile) feels about the revered grape juice. When Jack begs Miles not to drink and dial, I chuckle at the all-too-true warning. When Miles rants about malolactic fermentation and merlot I'm with him in spirit. And when he stands by a pay phone in a puddle of pathetic desperation, I am overwhelmed by his humanity. So when I heard that the book's sequel, Vertical came out, I bought it immediately and dove in. Now, I'm gasping for a breath of air and a life preserver.
Vertical begins a few years after Miles' book finally hits big. His stroke-addled, wheelchair-bound mother is desperate to get out of the home she's in, Jack is an out-of-work actor and divorced father, and Miles is banging anything with a vagina and drinking anything with an ABV above 6%. He's been asked to MC the International Pinot Noir Celebration in the Willamette Valley, so he decides to kidnap his mother from the home, hire a pothead Filipino as her caregiver, steal his mom's dog back from its foster home, and ask Jack to help him drive to Oregon and then on to Wisconsin to drop his mom (and the dog) at her sister's. Call it a dysfunctional family road trip. The fact that the mom (who's on blood thinners) develops an abscessed tooth, that Jack ODs on Viagra and gets a painful permanent hard on, that the dog gets badly injured in a car accident, and that the Filipino loses thousands of dollars is enough of a yarn of mishaps, but top that with perpetual drinking and fucking, and I start drowning.
Have I somehow become a prude? Does staring down the barrel of 40 change my sense of humor? Hell no. The naked chase scene in Sideways nearly splits me in half with laughter. But I went from feeling bad for Miles—ever grappling with his alcoholism, his manic depression, his guilt—to cold apathy. I stopped caring about how the book (and the characters) turned out. Rex Pickett wrote through Mile's eyes, so the book is of course riddled with seldom-used, multi-syllabic words that are meant to impress more out of a sense of insecurity than intellect. Thank god I read it on my Kindle, which has a built-in dictionary, but there's a difference between establishing a character flaw and beating it to death. "Diaphanous" is eye-catching maybe the first two times you see it. After that, it's redundantly transparent. I was also hoping for an in-depth look at Oregon's wine country, but the first half of the book is spent trying to get out of California…yay, more fucking CA. Ugh.
The irony of Miles' descent into depravity and moral corruption at a moment when he was at the apex of his professional life was not lost on me. His attempts to impress if only to make himself feel worthy were actually tender if not pathetic. His bruised childhood explained his bruised adulthood, but I watched it all unfold as an outsider…I never cared enough to be pulled in. If you loved the movie, the book is certainly worth a read (or you could always wait for the movie's sequel) but save your money and borrow it from a friend or, better still, that forgotten building in the center of town called a library.