I realize this topic polarizes people, but at this point I've realized I'm too set in my ways to ever see the other side of the argument no matter how open minded I allow myself to be. I have argued more than once that a classic recipe is a classic recipe and if you are going to fuck with it, that's great…that's creative…but just don't call it by its original name. If a salad contains anything other than fresh mozzarella, fresh tomatoes, fresh basil, olive oil, and salt/pepper, it is NOT a caprese salad any more than apple-flavored vodka served in a martini glass is a martini. This particularly gets my panties in a bunch when the recipe referenced is a Cuban Sandwich.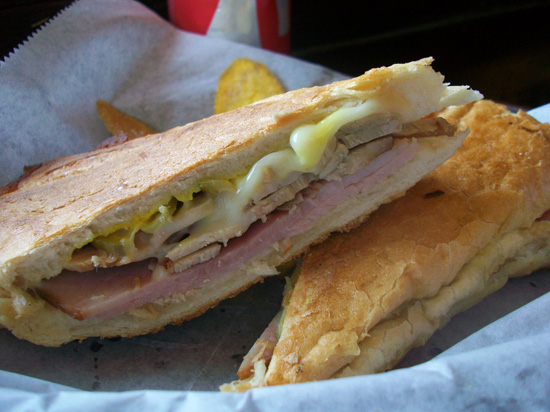 I'll be the first to admit that I got sucked into watching the Next Iron Chef because someone whose cooking I greatly admire and whose cookbook I've reviewed (Marco Canora of NYC's Hearth and Terroir) is competing. It wasn't long before I started screaming at the television with indignance, my string of expletives aimed at Chef Celina Tio and her Breakfast Cuban Sandwich. The challenge was for each of the chefs to show off their ingenuity in the form of a sandwich, and while I'm not a complete dolt and I understand that ingenuity at its core embraces inventiveness, at what point is the line drawn? If it no longer even quacks, is it still a damned duck?!?
A Cuban Sandwich has always been and will always be a combination of smoked ham, swiss cheese, roast pork, mustard and thinly sliced pickles on Cuban bread. The Cuban is a grilled/pressed sandwich and the secret is not only the roast pork—traditionally a Boston butt marinated in mojo and slow roasted for several hours—but also the uniqueness of the Cuban bread, which is made with lard. Once the sandwich is assembled the outside of the bread is buttered and put in a sandwich press until the cheese is melted and heated through. Truly one of the great sandwiches of the world, and yeah, in case you're asking, of course I'm biased. But if you ever find yourself in Miami or any other Cuban-centric neighborhood where you can get a sandwich you know is authentic, I'm sure it'll get your mojo working, too.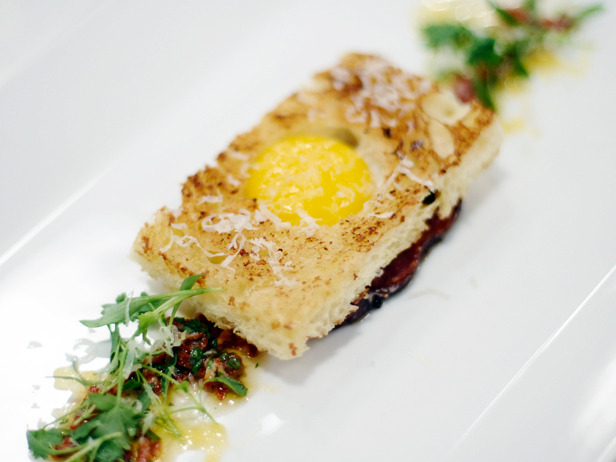 But Chef Tio saw fit to make a "Breakfast Cuban Sandwich" which though it looked absolutely delicious, bore no resemblance to its namesake…NONE. ZIP. NADA. ZILCH. It was essentially an egg yolk set inside the center of a slice of brioche (like toad in a hole) with slab bacon, chorizo vinaigrette and housemade pickles. If the only shared ingredient is a fucking pickle exactly how does that qualify that as being inspired by the Cuban Sandwich? Cubans have dishes with chorizo, we just don't call them Cuban Sandwiches. We've also got some with eggs, but they've got other names, too. I get it, guys, it's her twist on the classic. But if she twists it until she has wrung out every last drop of the original, why bother referencing it?! I'm bored with it all at this point. Chef Tio is certainly not the only one serving up inspired cuisine that beckons the name of a classic dish if only to breed familiarity and nostalgia, and it's insulting. Tell me what the dish contains and call it a day. But for the love of all that's holy, don't say it's a play on a Cuban Sandwich and eviscerate all traces of what makes a Cuban Sandwich a Cuban Sandwich. As Homer would say, "Don't toy with me, woman."