Anniversaries are a funny thing. When you're younger, you look at them with eyes that reflect wonder, excited at what your future together will bring. But as you get older, you often look at anniversaries with eyes that reflect amazement, awed by what your past has brought you and how you've managed to get through it together. My husband (or the "thorn in my side" as I lovingly call him) and I just celebrated 15 years of marriage yesterday, which we proudly heap on top of another 7 years together before we were married…total damage assessed at 22 years, which means we've been together longer than we haven't since we're both on the verge of turning 40. That's way too much math for one post.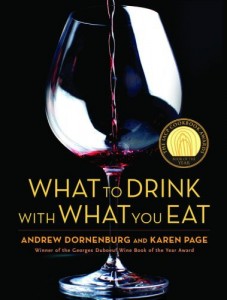 And it just so happens that we share our anniversary with a book I adore, The Flavor Bible, which celebrated its second year yesterday. Many of you know that I raved about the book a while back and said it should be on every foodie's holiday list, but Karen and Andrew have another book as well, and What to Drink With What You Eat is the one that should be under every Christmas tree, menorah, kinara, pagan yule log…whatever…this year. For every sister-in-law that calls you in the middle of an episode of Fringe to ask what wine they should buy for their upcoming barbecue, get the book. For every dad that texts you from the liquor store to get your opinion of what he should bring to the BYO, get the book. For every non-drinking buddy that begs for ideas on what to serve his dinner guests, get the book. And even for you…you smartass know it all…get the book.
WTDWWYE serves as an amazing reference point for what drinks pair best with what foods, and I say "drinks" because it's not just about wine. The book includes beers, cocktails, teas and even waters. The first half is an alphabetical listing of foods/ingredients, followed by a list of what pairs best with them. Those in bold are particularly good pairings, and those in bold caps are extraordinary pairings. It's also sprinkled with quotes from various sommeliers, brewmasters and chefs, shedding a little additional light on specific pairings. The second half of the book takes the opposite approach, just in case you've got a bottle of something and have no idea what to serve alongside it. Got some Irish stout in the fridge? No better match for that than oysters. Or is it an imperial stout? Then you're better off with a dark chocolate dessert. And as if that all weren't enough, they also give you pairings to stay the hell away from, i.e. Korean food and chardonnay, peanuts and red wine…mother-in-law and football game.
For the love of all that's holy, stop right now before you even consider buying your wife a gym membership or giving your dad another fugly tie, for either gift will either end up in the bottom of a drawer somewhere or worse yet, submitted as evidence for part of a divorce trial. Get the book instead and not only will your dad leave you to nap in peace, but—take the word of someone who's been married 15 years—you just might get some from the wife, too. Everybody wins.