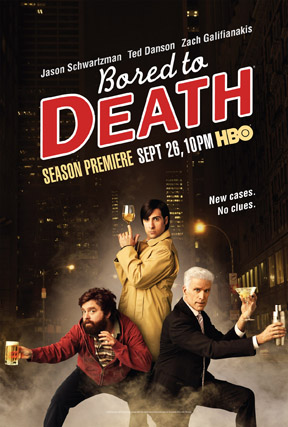 It's been a really long time since I had something to give away to you guys, but this one should prove to be a lot of fun. I don't know if any of you have ever heard of the British TV series Black Books, but the main character is the owner of a small bookshop who also happens to be a complete lush. If you haven't heard of it, don't worry…this giveaway has nothing to do with that show. But it's great and you need to hunt it down on DVD or on YouTube at the very least. Anyhow, this Gonzo giveaway is related to another show with a lush: HBO's Bored to Death, a series based in Brooklyn, about a writer named Jonathan who's recovering from a painful break-up (thanks in part to his drinking), can't write his second novel, and decides that rather than face reality, he's going to jump into his fantasies and moonlight as a private detective—an unlicensed one.
In honor of its second season premiere (September 26th at 10pm), HBO decided to create a Bored to Death private label chardonnay, in partnership with New York's City Winery. And because this blog is so damned cool, thus by default its readers being so damned cool, Gonzo Gastronomy is slated to receive not one but two samples of the wine to review. So here's what I'm thinking…given that I'm not one to do traditional reviews here, I figured it might be fun to have one of you guys taste it as well, and then we'll both write up our thoughts. Emails, drafts, buzz-scribbled tasting notes…a fucking blast, I tell ya. But I don't share my podium very willingly, so let's get to how you actually go about winning this puppy.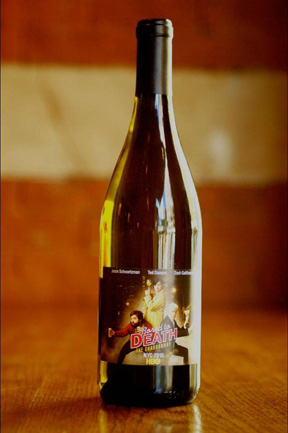 I want to know two things: If you had to spend the rest of your life drinking only 1 thing and watching only 1 TV show, what would they be? If it's a wine, beer, spirit, etc. I want to know what kind…that's enough unless you feel like giving me a brand, too. So "pinot noir" is cool, but so is "Domaine de la Romanée Conti." At 10pm the night of the premiere (this Sunday) I'll pick a winner from all those who comment, and get a bottle high-tailed over to you. Unlike most other bloggers who pick a winner randomly from the comments in an effort to be objective and democratic, I'm picking my favorite answer because objectivity has no business sticking its nose into wine, and this blog is an autocracy. After that I'll be in touch, and we'll suck this puppy down in the comfort of our own homes and come together with some rants and raves.
So here's a chance to get on the soapbox, kiddies. I know you've always had the opportunity to state your opinions in the comments section, but now's your chance to throw your weight around just a bit more—it's a lot of weight, I know. And for the love of Bacchus, make sure it's not about hints of pineapple and overwhelming oak, OK? Whoever gets a crack at this needs to get their gonzo panties on and leave the snooze-fest tasting notes to the cemetery club.
UPDATE: So here's the deal. I nearly chose Anne because it's not often you see a woman pick bourbon, and that wins points in my book (not to mention that she actually listened to me and went to go look up Black Books). I almost chose Don because he went off into a daydream, very much Gonzo-style. I almost chose Raul, not only because he called me darling, but because he chose Jacques Cousteau…a very cool, off-the-wall choice. I nearly went with Zinhead because his indecision was hilarious…I'd put Pintofstout in this category, too…listening to his stream of consciousness was entertaining. Andrew's response was pretty cool as well, in both the drink and TV show department. The one that came "this close" to winning was CindyW, not so much because of her answers, but because she was the only one that managed to figure out that if you guys were shackled to one drink and one TV show the rest of your lives, you would, in essence, be "bored to death." So congrats for making the connection, Cindy, but no cigar for you.
At the end of the day, the one that truly went at this challenge Gonzo style was Lou, aka Coupe 60. The witty diatribe about Austria's Klammer and Limt was a roaring start, the snarky comments directed at Coors Brewing Company were right up my alley, the blatant ass kissing was a bonus (particularly because it followed an insult), and despite the fact that there were no multiple entries allowed, his attempt to enter as "Carmine from Vivi" (a restaurant I reviewed not long ago) was balls-of-steel worthy. Thanks for joining the mayhem guys…it was a blast. If this works out as well as I think it will, you can all look forward to a monthly sample giveaway/guest writing opportunity. Now bugger off and go lick your wounds!