There were a few moments last Friday when I caught myself behaving like the pre-pubescent version of myself, despite the fact that I was deftly maneuvering my red Mazda 3 through midtown traffic and I was pretty sure that pre-pubescent Katie didn't know jack shit about opposite-side-of-the-street parking regulations. When I was about ten years old, my grandmother would sometimes give me a dollar and let me walk over to the bodega around the corner for a few slivers of summer salvation. And I'd head down the sidewalk with that dollar crinkled in my left fist as if it were the Hope Diamond, only letting it fall on the counter in a sweaty clump when I had my candy, ice cream and soda gathered in my other hand. 29 years later and 99 dollars more, the anticipation of willingly forking over cash for a few slivers of summer's fading salvation found me standing outside the doors of Eataly with a grumbling hunger not only in my belly but also in my head.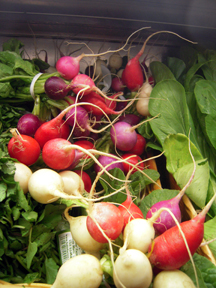 The unmistakable scent of freshly brewed espresso hit like a wall once we stepped foot inside, pushing past customers that were trying to belly up to the counter for their caffeine fix like junkies at a methadone clinic window. And that espresso scent wrapped itself around another of sweet, warm baked goodies that were lining the displays a few feet away in the dolce section of the café, double-teaming me into immediate hypnotic submission. Jesus Christ, I thought, maybe we should've started out in the produce section. I've only got a hundred fucking dollars and my brain already spent half of it in the first aisle.
The café gave way to several rows of salumi and cheese that had been pre-packaged on site so you didn't have to wait on line for earthy chunks of smoked ricotta, translucent slices of prosciutto di parma and bresaola, or fresh wet mounds of buffalo-milk mozzarella. This may not exactly be the way to make all women weak at the knees, but damn it if my legs didn't buckle under me a few times, gazing at the glory of black-truffle-speckled pecorino…though the $22 price tag thankfully broke my fall. My brain, at this point, was on high alert, taking inventory, adding the damages and storing its findings in a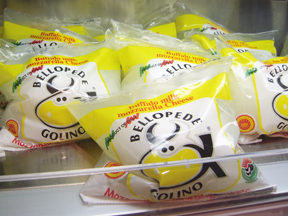 dark corner reserved for impulse food shopping. We quickly strolled past the fishmonger and butcher before realizing we'd better sit down and eat before we actually get shopping baskets and set ourselves loose in this gastronomic palace.
A couple of seats at the bar, a warm basket of bread and one glass of prosecco later, we had managed to catch our collective breath and put together a plan of attack.
So, do you have a budget for today?
Uhh, yeah, sort of, I replied as I shook my head "no." Sure I had a hundred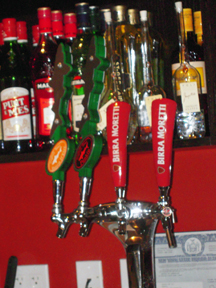 bucks of pre-planned spending in my purse, but there's always the card, isn't there?! Ohh, where the hell was the level-headed, money-conscious husband when you needed him to erect a levee?! Wait, I didn't marry one of those. He would more likely have added to the death toll of fiscal damage done to the Pizzuto bank account. Better off without him today. I readily apologize, by the way, for being a complete idiot and not taking photos of our meals, but I was lost in the rapture of ravioli, and rapture takes no breaks for photo ops. Here, instead, is a groovy picture of the beers they had on tap: Moretti and Dogfish Head…but not just any Dogfish Head…they had Punkin Ale and Raison D'Etre, a deep, mahogany Belgian-style brown ale brewed with beet sugar and raisins, and one of my favorites. Sigh.
Stuffed bellies, by the way, apparently don't do much to impede the sort of kamikaze shopping spree that took place after lunch. Produce? Stunning. Breads? Intoxicating. Fish? Fresh. Meat? Marbled. Olive oils, balsamics and pastas? Fucking expensive. By the time I was handed my heavy bags in exchange for 97 of my dollars (non-sweaty this time) I realized I hadn't even stepped foot inside the wine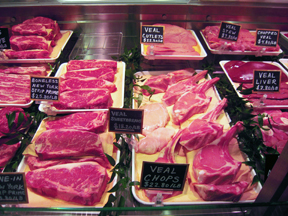 shop which for some unknown reason (that I am nonetheless thankful for) doesn't have an entrance from the market…only from the street. Utterly defeated, I walked by its door with my weighted bounty, barely keeping pace with pedestrian traffic, and lifted my head slightly as if to say, "Screw you…you will not tempt me to overspend. I can only dream of what bottles grace your lovely walls, but next time perhaps you should reconsider the logistical (and economic) benefits of desegregation."