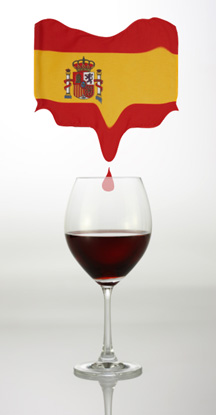 I was reminded yesterday of what elusive element it was that made me fall incorrigibly in love with wine a couple of decades ago, and what that element means to me today with the oceans-worth of wines that are out there being made. Wine writers, makers and marketers often throw around the word terroir as if it were some mystical, unattainable, spiritual ether—and oftentimes that makes them easy targets for those that poo-poo the idea of terroir as a gimmick—but those of us that have managed to shut up just long enough to hear a wine speak of place know that those are the only ones worth really seeking out in life. This isn't all to say that a wine always needs to be "serious" and thought provoking, as sometimes the simplest of pleasures are not only satisfying but also gratifying. But what wine should be at all times is a resident. If it can't tell me where it's from, I lose interest…quickly.
It happened to be that while these thoughts were hitting home I was drinking a sample wine sent to me for review—Marco Real's 2007 Tempranillo from the Navarra region of Spain. Navarra is most well known for its merlots believe it or not, but I was drawn to this bottle because, of all the samples sent it was the only one that was 100% tempranillo, a grape most famously hailing from the Rioja region which sits just south of Navarra. Spain in general has seen quite a revolution with its young winemakers, many of whom are pursuing a more "modern" taste profile for their wines. While I'm busy waxing eloquent about old world Riojas like R. Lopez de Heredia, these young guns are running as far away from that style of wine as possible, aiming instead for a California-like wine that clubs you over the head like an enological 2 x 4. So when I poured this young wine into a glass, its inkiness took me by surprise. It looked more like a fucking zinfandel than it did a tempranillo…and, in fact, it tasted more like one, too.
What I thought to myself was, this wine could come from anywhere. And if that's the case, then this wine comes from nowhere. There was absolutely no way to have pegged this as a Spanish tempranillo (perhaps I'm at fault for constantly comparing it to its more elegant Rioja brethren, but…well…tough shit.) I wanted some sort of bearing—some sort of sense of home—but what I got was a wine that, while tasting OK, couldn't be pegged as a resident. Call it, for lack of a better term, a wine "without country". And while it's certainly worth its $10 price tag as a technically unflawed, completely potable wine, I don't have enough years left in my life to spend them on wines that are lost.
I want wines that have an identity…wines that have a personality…wines that, for better or worse, have a home, because it helps complete my experience in drinking them. I can close my eyes and taste a dozen chardonnays that have been manipulated eighty ways 'til Sunday and not be able to discern whether they were made in California, Australia or Chile—I have no connection to them because they are commodities. Why would I ever want to bother with something I can't connect with? These aren't of any use to me…they don't matter. Even the simplest of rosés from Provence, ever quaffable on a hot afternoon, matters because it differentiates itself from a rosé made in Tavel, and it sure as hell differentiates itself from the gallons and gallons of "white zinfandel" being made today. This isn't any deep, esoteric soul search for Christ's sake…it's arguing a case for point of origin. I simply don't have the time or the inclination to spend on wines that can't show me what there home is like, and as I get older, my patience wears thin for those wines that don't have a map and compass.