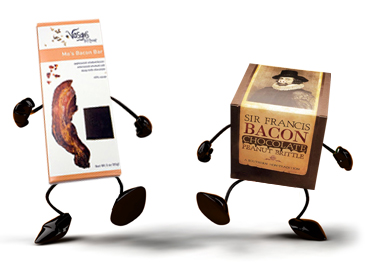 When the bacon-on-everything fad has long gone (and believe me, it will go), I'll still be the one hoarding my rendered bacon fat, smoking my own pork belly and baking my own pig candy—as certain as death and taxes. But I'm the first to admit that I'm pretty giddy about bacon being ubiquitous right now, because I've got a crush on my porcine friends that my husband, in all his self-assured masculinity, is willing to overlook. I've seen it in the sweet, like Bacon and Eggs Ice Cream; in sips, like PDT's bacon-infused Old Fashioned; and in the mind-blowingly sublime, like bacon-wrapped pork belly, and it has never failed to lend itself to that sort of oral orgasm that occurs every now and again when you've just managed to place a piece of gastronomic perfection in your mouth. Contrasting flavors, contrapuntal textures and complementary aromas—boo yah baby…take me to the river and baptize my soul. But I digress.
I've done some playing myself, like my late-night inspiration, Chocolate Fluffernutter Cupcakes with Stout-Caramelized Bacon, so when I saw bacon and chocolate being packaged together—two indispensible, not-worth-living-without Godsends—I began drooling in the aisle like some homeless, starved Siberian Husky staring down a porterhouse. The fact that peanut brittle was also involved made it a damned ménage á trois of flavor, and I was powerless despite the $6 price tag for what amounted to 4 pieces of glorified candy. This shit was artisanal—foodiespeak for "blow your paycheck". But Sir Francis Bacon Chocolate Peanut Brittle was like that jackass that inevitably takes your virginity…an utter letdown. Everything I'd read about Sir Francis came in the form of rave review, but in my case it only served to reconfirm what my father-in-law always lectures (giving no credit to Ben Franklin) about believing nothing of what you hear and only half of what you see.
Sir Francis says its bacon peanut brittle is made with "artisan smoked bacon and USA-grown peanuts…all natural and altogether different" so I expected balance. Counterpoint too, mind you, but balance nonetheless. What I got was sweet smoke. I wanted the saltiness of the peanuts to play against the sweet chocolate, and I wanted the savory bacon to do the same, but it tasted as if it had been doused with liquid smoke and dipped in mass-produced, inferior chocolate. If I'm not making my point clear enough, this will: The open box sat on my kitchen counter for well over two weeks, unfinished until my husband ate it in a fit of boredom one night. Quality chocolate doesn't last two days in my home, much less two weeks. Anything bacon related usually meets with the same fate. But alas, I just kept passing by it, flipping it the bird for toying with me so.
Then, a week later, I see a bar of Vosges' Mo's Milk Chocolate Bacon Bar calling to me like a siren from the check-out aisle at Chef Central—those bastards know just where to place those "impulse items" thanks to Marketing To Katie 101. You'd think I'd be more hesitant…more reluctant…more cautious, but again, much like the post-mortem of having lost your virginity, you keep going back for more, determined to see what the fucking hoopla is all about. And weakling that I am, this time I paid even more, coughing up $7.50 for the bar. Thank god my hopes were redeemed. This had no peanuts or brittle, but man did the flavor of smoked bacon come through. It was a beautiful marriage of sweet and savory. You'd think that between the smoked bacon and the smoked salt that Vosges uses it would be overwhelmingly smoky, but it wasn't…not even close. The only thing I didn't get—with both products—is why the hell they weren't made with dark chocolate, when these flavor profiles all but beg for a slightly bitter chocolate. Turns out Vosges does also make this same bar with dark chocolate, the store just didn't carry it, dolts that they are…evidence that they only passed Marketing to Katie 101 by the skin of their teeth.