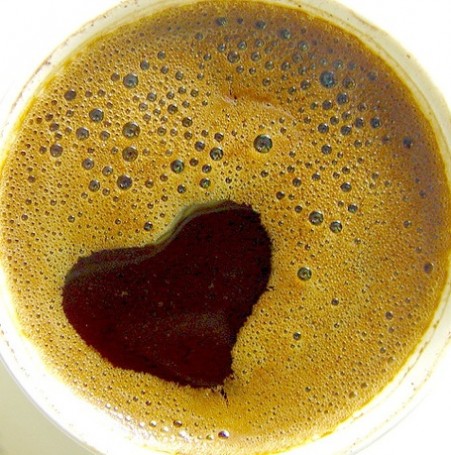 I woke up yesterday morning to the sound of what seemed to be someone in the kitchen trying to kill a running spider with a wooden rolling pin. My quick headcount told me it was the kid, and judging by the pounding, I felt bad for the spider…and the walls…and the counters…and the general stability of my kitchen. But after wiping my sleep-crusted eyes, tripping over a cat and cautiously maneuvering my way down the stairs, fearful of what sort of ground zero I'd find, there was just a twelve-year-old standing in what appeared to be a relatively unbroken kitchen, wet with angry tears. The switch in my head immediately flipped from "be ready to assess damage" to "comfort the kid" but I smelled coffee and had an inkling of what type of showdown had gone on in my sunlit kitchen…and the kid, in essence, had won, despite the broken chair and the scattered grinds.
"What's wrong?" I asked as I ran to hug him and wipe away tears that poured forth from eyes that couldn't decide whether to communicate anger, disappointment, frustration or defeat. "I wanted to try to make you coffee, but I screwed it all up and I'm really pissed." (Permission to curse temporarily granted and forgiven). I didn't understand because the coffee was brewing and it smelled fine. But then I saw one of the cabinets still open, sugar pushed to one side, rice to another, flour thrown up on a third shelf, and boxes of teas parted like the Red Sea. "I couldn't find where you kept the coffee so I found this in the cabinet behind the Moroccan Mint tea" (he shows me a complementary bag of flavored coffee that I had been given a couple of years ago as part of a gift basket…it makes 8 cups of coffee, but he knows I usually only make 4 so has only added 4 cups of water.) "But I couldn't find the scooper either because I know you keep it in the coffee thingy, so I couldn't scoop out the right amount, so I just dumped the whole thing in and I know I screwed your coffee all up, and it's gonna taste horrible, and you're gonna hate it, and…I SUCK!"
You see, just the morning before I had showed him how I make coffee because he always shows interest in the kitchen. Turns out he listened well, and he had, in fact, nailed everything else, he just couldn't find the coffee and the appropriate scoop…and panicked. I managed to calm him down and showed him, for future reference, that the coffee was always in the fridge, but I assured him that the coffee was probably fine. He, however, was convinced otherwise. So we sat and waited for it to finish gurgling and brewing, and then I poured myself a carafe (about 2 cups' worth) with 2 packets of Truvia and said a silent prayer as I steadied myself for the first strong sip. "It's fine, honey…strong, just like I like it!" He glared up at me with this "yeah right" look that made me smile, not at all convinced that I wasn't just humoring him, so I threw my arm around his shoulder and took him outside on the deck with me, where I usually have my first cup of coffee, and drank down every last drop, completely disregarding the mess he had left behind in his wake and thanking him profusely for caring enough to even try to have coffee ready for me when he could just as easily have saved himself the trouble and just played his Xbox.