Go ahead and file these under strange, idiotic and/or insulting PR emails that I get as a food/wine blogger. While I certainly want readers to stay on top of trends, learn about new products and be turned on to things they've never tried, sometimes the press releases are laughable, making me wonder if any bloggers out there actually take them seriously. My tendency is usually to just hit the delete button, but I've been getting so many recently that I thought it might be fun to share them with you. I guess in a way that means they're getting what they want—bastards.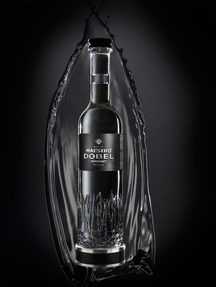 Subject: Story Idea: National Tequila Day – Search for the perfect sip
This guy was wondering if I needed any story ideas for National Tequila Day (July 24th so mark your debauchery calendars now) so he included the following for my consideration: Luxury tequila maker Maestro DOBEL has created the world's first Diamond Tequila. Maestro DOBEL is a distinctive blend of three aged tequilas: Reposado, Anejo and Extra-Anejo. He didn't actually explain what the hell made it the world's first "diamond tequila" or what the fuck a diamond tequila is, but as it explains on their website, it's filtered to give it a "diamond clarity." He then gave me a cocktail recipe that included the DOBEL. That was followed by a blurb about 1800 Silver Tequila (a completely different brand), another blurb about the 1800 Select Silver, and two more cocktail recipes. The gist of the email, if I understood it correctly, was here are some brands I represent…can you promote them for me?
I've gotten so many of these lately that I finally broke down and replied to his email in typical Gonzo style: I'd love to ask you a question, and I ask it with all sincerity and absolutely NO disrespect meant….do the bloggers on your mailing list actually take these ideas and run with them (recipes especially) without having a sample to review or a way to test the recipes? I would never write about a product's use in recipes unless I had first-hand experience, but I guess I'm wondering if lots of other bloggers have no problem doing so….just curious. I have yet to get a response.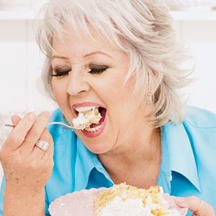 Subject: New Online Recipe Contest From Paula Deen and Kraft
This one nearly got deleted based solely on its subject line, but knowing that everything is fodder for post material, I took a look. You say "Paula Deen" and my face contorts into a painful, nauseated wince. You follow that up with "Kraft" and that look will no doubt be accompanied by stomach churning and convulsions. Here's the pitch: Paula Deen and Kraft are starting a new recipe contest on July 19, giving away $40,000 in prize money—that's $500 cash per day! All you have to do is submit your favorite recipes made with Philadelphia Cream Cheese, according to the recipe category and theme for that particular week.
The link took me to a website with a letter "from Paula" that included the appropriate y'all sprinkled in with yowza and buckeroos, and of course dropping all the "g"s to form words like rubbin' and cookin'. The first week's competition? Make a side dish in 30 minutes or less, using no more than 5 ingredients. Someone remind me again why we continually ask women to come up with recipes using artery-clogging ingredients? I'd go out on a limb and tisk-tisk Paula Deen for being a spokesperson for a company that makes "food-like" crap that isn't food, but that's like asking Ted Nugent to stop hunting.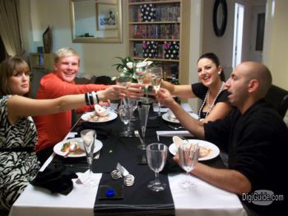 Subject: Come Dine With Me
And here I thought this one was a gen-u-ine invite, but apparently BBC is casting the US version of a UK food show called "Come Dine With Me" and they want my help in finding the best dinner party hosts. Ugh. So here's the thing…the show features 4 everyday people (anyone out there not a person every day?) hosting dinner parties in their homes in the NY/NJ area. They take turns hosting each other and assign "points" for various elements of the dinner party. Whoever has the most points wins a cash prize…plus the bragging rights for becoming NY's best dinner party host. So by all means, if you like inviting 3 assholes to dinner for the sole purpose of having them critique your cooking skills, insult your décor, gawk at your failed attempts at humor, and grade you like a sweaty, test-taking high schooler, go ahead and apply. As for me, I don't allow anyone in my home who doesn't already know that: 1. My music is always too loud; 2. I fired the cleaning lady I never had; 3. I don't give a crap who double-dips as long as they are above the age of 12; 4. I often discuss politics and religion, both profanely; and 5. If you want to be entertained you must grab a guitar, a tambourine or a pot and pan and become part of the jam—no free rides.