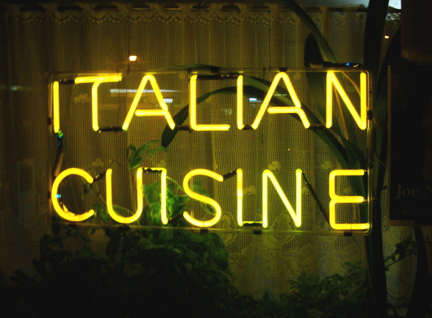 Over all, I'm not one who tends to frequent Italian restaurants that haven't been personally recommended by someone that knows my lack of enthusiasm towards them…especially those that cater towards the American "bastardization" of Italian dishes…and especially those in New Jersey. As luck (or lack thereof) would have it, I ate at two last week, and my experiences at both of them made for a classic case of Angels vs. Demons—of Italian restaurants. The fact that one of these restaurants committed a clusterfuck of transgressions would normally have me reminding you just how many fools I'm willing to suffer for your entertainment, but the truth of that matter is that I laughed nearly all the way home, wondering just how long it would be before these guys showed up on an episode of Kitchen Nightmares.
I'm bound to get flack for this, but I seriously seldom bother with the majority of Italian restaurants in my state. I know there are a few good ones (because they are the ones that get my business) but most of them are just a regurgitation of what Americans have come to expect: chicken, eggplant or just about anything else "parmigiana", meatballs as dense as Paris Hilton, penne vodka, and carbonaras and alfredos drenched in cream. But when we got together for a girls' night out last week, we were supposed to be headed for a German restaurant in Hawthorne, so overcooked pasta and undercooked risotto were the last thing on my mind. That quickly changed when we took one look at the place. The consensus at that point became, "screw this place, what else is nearby and how stiff are their drinks?" A few suggestions were tossed around but we settled on a new Italian joint called Vivi that had just recently opened up a couple of blocks up. My sister-in-law and I were pretty hesitant about the place, but it was local and reasonably priced. The fact that it said "creative cuisine" on its awning was not, by any stretch of the imagination, a good sign…it was the sign, apparently, of a "Demon" Italian restaurant.
After seven of us lovely ladies sat at a round table in the corner, our waiter—a 60-something, Italian-American divorcee that could easily have scooped up a roll on The Sopranos—began flirting with a couple of us while he opened our wines. I liken this overt flirtation with women approximately half his age to the nausea that overcomes you when you read in the backseat of a car. After a few humoring giggles he was gone, tossing about in a manic rush despite the fact that there weren't that many full tables. Every other menu item we asked about, by the way, was either "unbelievable, amazing or melted in your mouth." By the time he came back to take our order, the din of 7 hungry ladies was completely outdone by his idiot son/maître d' who stood at the front desk, on the phone, yelling at whoever was on the other end that he "paid the fuckin' bank" and that he was gonna "fuckin' smoke him." Ahh, lovely dinner banter.
Then there was the food. The lump-crab meat appetizer that we ordered supposedly came served on top of mango. What it actually came served on top of were mango peel slices. The meal I wanted to order—shrimp and wild mushrooms over spaghetti—was a no-go because they were out of shrimp. "Can you just replace the shrimp with scallops or such?" I asked. No way…they were out of scallops, too. I asked how exactly they were able to make the dinner special that consisted of a crépe stuffed with shrimp, fish, etc. if they were out of shrimp, and was told that those were made "ahead of time." Like an asshole, I ordered the special. What I got wasn't a crépe, but a burrito-like, thick tortilla, and it wasn't stuffed with shrimp and fish, it was stuffed with a few little chunks of shrimp and a few tiny shards of fish, and mostly stuffed with what I'm guessing was a mixture of bread crumbs and God knows what else. While we ate, the maître d's cell phone rang at the front desk and that prompted another slew of threats that weren't even remotely mumbled under breath, spewed instead with a thick Italian accent. Dessert, by the time we got to it, consisted of typical options like tartufo, spumoni, cannoli, and chocolate mousse cake. The cannoli, the life-threatening son actually admitted, wasn't much good and they were out of the chocolate mousse cake (big surprise). So a couple of the girls ordered some almond-flavored cake while one of the busboys gallantly returned from the liquor store with a huge jug of Gallo wine and poured the waiter and son a brim-full glass so the son could then proceed to sit with a friend at the table next to us and explain to said friend how he "swears on his mother" (why is it always the mother?!) that he's gonna "smoke this guy." The cake, by the way, was decent.
It was only a couple of days later that my husband and I decided to treat ourselves to a nice night out (with the kid) at a local, yet remote Italian restaurant called Momento. Quite the antithesis of Vivi, I wasn't greeted by a horny Italian divorcee…I was greeted by a doting Albanian maître d' who gently kissed my hand and showed us our seat. There were no menacing threats made over a phone line, no swearing, and no gilding of the menu items. Instead we had a gregarious waiter who entertained us with a couple of little-known facts about the history of various alcoholic beverages and yet knew instinctively when to leave us alone. There was no trace of Amercanized Italian food on the menu, save perhaps for the lobster ravioli. The carpaccio I ordered was delicious and my shrimp and wild mushroom risotto (damned if I wasn't gonna finally get my shrimp and mushrooms) was perfectly cooked, with enormous chunks of shrimp and scallops tossed throughout. My son's lamb chops (9 small ones) were a beautiful medium-rare, and I'd gladly tell you about my husband's Bolognese were it not for the fact that I was so wrapped up in my meal that I wasn't even courteous enough to ask how his was. An empty plate, however, sufficed for an answer.
When we told the waiter we had to leave without dessert or coffee because our son wasn't feeling well, we weren't given dirty looks—we were given sympathetic ones, with an offer to return soon for a "full" meal. The waiter, busboy and maître d' were all the kind of people you felt like hugging on the way out after you paid your bill. You felt as if they actually enjoyed your company and wanted you to return not so much for your patronage but merely for your presence. They didn't blatantly work at schmoozing for a tip, and that's precisely why they earned a good one. I'll gladly return to Momento a hundred times over before I'd even remotely consider stepping foot inside Vivi again.