Generally, what I ask of someone teaching me how to do something, is to speak to me under the general assumption that I actually have an evolved, functioning brain…and that I have long outgrown my pre-pubescent tendencies. I'd also like to think that by simplifying a process for me it wouldn't, by default, mean dumbing it down. Say, for instance, I want to learn how to play the sousaphone, and I buy a book called The Art of Playing a Sousaphone—play along, it could happen. In no way, shape or form do I want that book to include chapter titles like "Ho-Dee-Ho, Let's Learn to Blow" or "When All Else Fails: Scales, Scales, Scales!" In fact, I'm pretty sure I saw the first one in an ancient Kamasutra text, but that's beside the point.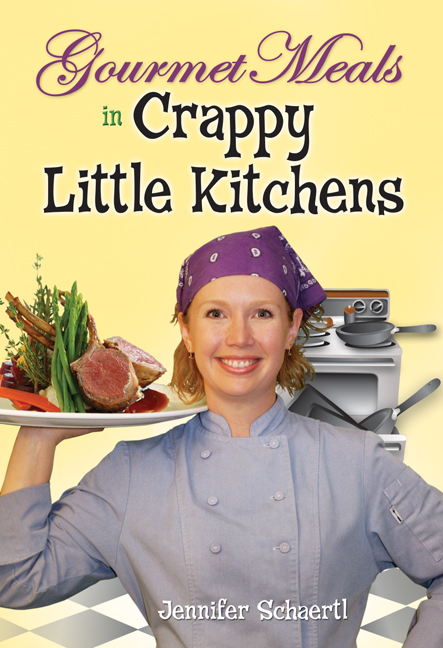 Gourmet Meals in Crappy Little Kitchens is a new cookbook out this summer that supposes you can make, "fun and delectable meals despite the lack of counter space and high-tech, expensive appliances and gadgets." Mind you, I haven't seen the book, been sent a review copy, bought it, smelled it, touched it or even farted in its general direction, but I did receive an email with four of its recipes and I was forced to stop what I was doing (oh, OK, I really wasn't doing much) and write about them. The recipes were: Holy Moly Chicken Pasole, Nobody Better Lay a Finger on My Corn Fritter, Make No Mistake Coffee Cake and Rhubarb Diamonds are a Girl's Best Friend. I feel compelled to mention that this is NOT by any stretch of the imagination, a cookbook for children or even teens. If you are looking to make "Gourmet Meals" and you want to do so in a kitchen described with the potty word "Crappy," I'm pretty sure you're chronologically, if not mentally, an adult. So why, for fuck's sake, does Jennifer Schaertl think you need saccharine-drenched recipe titles in order to get you to cook?! Beats me. I also need to mention that the chick can't spell because it's technically not "Pasole," it's Posole or Pozole.
What also got me going was the unique angle the book took—cooking without expensive appliances and gadgets—in what is certainly a saturated cookbook market right now. I took a quick glance at some of the cookbooks on my kitchen shelf just to make sure I wasn't being a wench about this, but the truth is that "gourmet meals" created by the likes of Thomas Keller, Mario Batali, Marcella Hazan, Danny Meyer and James Beard seldom require any appliances more exotic than a food processor, a stove and/or an oven. Oh, wait, and a knife and cutting board. Rick Bayless' Chicken Pozole recipe doesn't require anything more than Jennifer's, but then his doesn't have a sing-song quality to it so I guess she trumps him there. In the end, the consumer is lured into believing he/she is better off playing it safe by buying Jennifer's book.
I have absolutely no idea how great or terrible these recipes are, nor do I care to find out. If any of you guys are curious, I'd be more than happy to post them here since I've already got permission to do so. My issues in this case aren't with execution, they are with concept. I'd like to think that someone intent on making gourmet meals at home (as the title states) doesn't need cute, rhyming recipe names in order to be enticed to cook—that's better saved for the down-it-like-castor-oil approach to cooking that's commonly found in Rachel Ray and Sandra Lee fans. Add to that the subliminal intimation that limited kitchens can't hack it with other cookbooks and you've got the equivalent of an A/C unit being sold to an Eskimo.