Fear and Loathing in the Garden State – Part 2
It had become evident that the festival was not at all what I expected when I found myself standing at its core, feeling fairly certain I could throw a rock and not hit someone. Thank Bacchus we had gotten comped tickets because I was covering it as "press," because in the end they would've had to drag me from the promoter's office clawing, kicking, biting and cursing in an effort to get my money back. Last year, the attendance was apparently about triple what I saw, and given the fact that their contingencies for rain were paramount to herding a couple thousand people into a Giants Stadium underpass, I wasn't surprised that there weren't many repeat customers from the year before. The Great American Food & Music Fest was made bearable by the presence of two people, and more than worth it because of a third. It was beyond Clint Eastwood…it was The Good, The Terrible and The Fugly. I'm working my way backwards so I can end on a good note—yes, Virginia, I have a heart.
The Fugly
Public wine and beer tastings are a dangerous proposition because inevitably, you wind up with a few people who drink enough alcohol to keep a small Ethiopian tribe hammered for 3 straight days. Add to that the fact that the people pouring were hired help and not brewery/winery representatives, and you've got yourself a clusterfuck of folks who just don't give a crap how many times you come back to their table…they're happy to oblige and pour you another. This also pissed me off because there was no one there to talk to about what was being poured. The hired help smiled, took your "drink tickets" and poured you your two ounces while they impatiently waited for their shift to end, so asking them about the oak regimen of the chardonnay seemed futile.
The Terrible
Then there was the fact that this was supposed to be a celebration of American food and beverages, which it wasn't…no, not so much…no…uh-uh. The beers did slightly better at covering the US than the wines did, though somehow Europe got roped in as well. Thus my question is, what the fuck, people? Here's the list:
Belfast Bay – ME
Blue Moon (brewed by Coors) – CO
Boaks – NJ
Cricket Hill – NJ
Defiant – NY
Erie – PA
Grimbergen – BELGIUM
McGovern's – ME
Murphy's – IRELAND (though now owned by Heineken)
Point – WI
Sam Adams – MA
Sierra Nevada – CA
Spaten – GERMANY
Yuengling – PA
Total states represented: 8 out of 50
Total foreign countries: 3
Not to mention that 14 of Sam Adams' beers were being poured (hogged up 4 tables) and 6 of Sierra's beers (2 tables), where everyone else only had a couple. Then we have the wine list, which was worse:
H.J. Wiemer – NY
Lemelson – OR
Wine by Joe – OR
Raptor Ridge – OR
Pull Eighty – OR
Foris – OR
Long Shadows – WA
Dusted Valley – WA
Cougar Crest – WA
Chateau St. Michelle – WA
Goose Ridge – WA
Beresan – WA
Alba – NJ
Tomasello – NJ
Ste Chapelle – ID
Lincourt – CA
X Winery – CA
Round Hill – CA
AND 30 OTHER WINERIES ALL FROM FUCKING CALIFORNIA
Total states represented: 6 out of 50
Total percentage that was from CA: 60%
"Representation of American wine" my ass.
The Good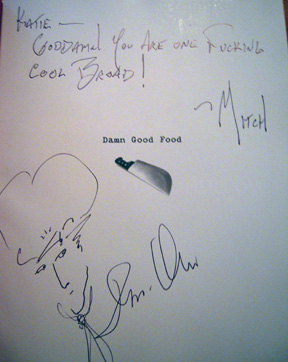 There were, however, the graces of a few wonderful people that saved this festival from ruin—people that, by the way, did not include Paula Deen being taxied around in a golf cart or Duff Goldman trading off between cake decorator and rock star. Gary Vaynerchuk did his thing, turning people on to varietals outside the realm of cabernet, and he was a pleasure to watch…as usual. Bob Schneider—the greatest musician you never heard of—was not only awesome onstage, but was also kind enough to come out of his bus, sign my kid's hat and take a photo with him. But the person who made the rain, the drunks and the California wine all worth while was Mitch Omer of Hell's Kitchen—no, dammit, NOT Gordon Ramsay's Hell's Kitchen!
I wrote up Mitch's cookbook here a while back, and this was an opportunity to not only meet the infamous legend, but also to get my cookbook autographed. The moment the rain began, the crowds ran for cover, leaving a lot of food vendors with time to kill—an opportunity I dove on like a vulture. Standing in the pouring rain, looking into Hell's Kitchen's food tent, I saw Mitch standing miles high above everyone else, donning one of his hats. It only took the mention of my blog's name to gain both his interest and an invite to come in out of the rain. Mitch, as it turns out, is a huge Gonzo fan, and is probably one of the few (if not only) people alive to have Ralph Steadman's actual signature tattooed on his right arm. He and I hit it off like long-lost friends, and his dedication here in my cookbook is what all chefs should aspire to—honesty and meaning. Thanks, Mitch…your presence was what put the "great" in the Great American Food & Music Fest. And your ribs, by the way? Holy shit were they good!